Ghost The Musical has spirit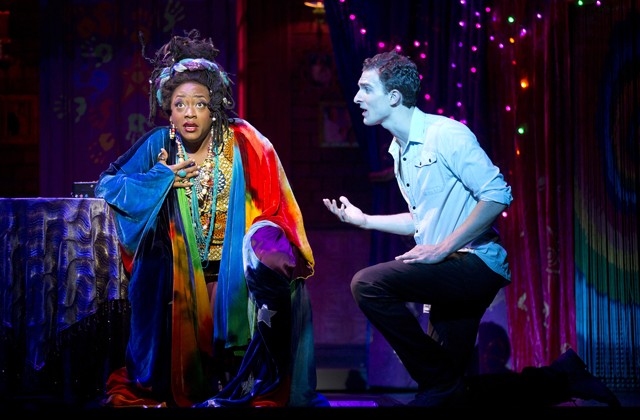 'Ghost' moves from the movie screen to the musical stage with some nice tunes, eye-popping effects and a show-stopping performance.
Everyone is probably familiar with the movie Ghost. Who could forget Demi Moore and Patrick Swayze making a clay pot, or Whoopi Goldberg's Oscar winning performance as the phony psychic who isn't as phony as she thinks she is, or just bawling at the end as Swayze's Sam says his final goodbye? The movie is a classic in its own way, mixing a love story with the supernatural, but the on-screen romance between Sam and Molly brought audiences back to the cinemas for multiple viewings and earned another Oscar for Best Original Screenplay as well as a nomination for Best Picture.
Who in the world would think Ghost could be turned into a big Broadway musical?
So who in the world would think the movie Ghost could be turned into a big, splashy Broadway musical? Bruce Joel Rubin, the film's screenwriter certainly didn't, not wanting to take anything away from the movie, but he re-thought his initial reluctance and met with the producers who fired up his imagination once again and gave him a chance to explore the more spiritual side of the story.
Ghost The Musical opened on Broadway in April of 2012, but only ran for 136 regular performances. The show did, however, score three Tony nominations. The show also ran for over 500 performances in London's West End in 2011-2012. 2013 gave the show a new life as tours were launched in the UK and US. The US tour began in September 2013, and is now making its home at Baltimore's Hippodrome Theatre from April 8-13.
The show follows the movie's plot pretty closely. Sam and Molly, as a couple, have been together for years but Sam has a problem saying "I love you," instead replying to Molly, "Ditto," whenever she says those three little words. One night, Sam and Molly are mugged, Sam is shot and he dies … but his spirit refuses to let go. Sam comes across a phony psychic, Oda Mae Brown, whom he finds can actually hear him. When he learns his death may not have been as accidental as it seemed, he uses Oda Mae to contact Molly to warn her about the danger coming her way. But will Molly or their friend Carl believe Oda Mae is legit?
The musical features Steven Grant Douglas as Sam, Katie Postotnik as Molly, Robby Haltiwanger as Carl, and Carla R. Stewart as Oda Mae. Douglas and Postotnik both have terrific, powerful voices, but I had a problem buying them as a couple as the show began. Perhaps we don't get to spend enough time with them before Sam's death, but it seemed that they really weren't as in love as they were supposed to be. Some of the dialog at the start came off quite a bit stilted as well, but as the show progressed, everyone seemed to finally get in a nice groove.
Carla R. Stewart really makes the role of Oda Mae Brown her own.
What finally grabbed my attention and enthusiasm was the broad, over-the-top, hilarious performance from Stewart. She's certainly got some huge hurdles to overcome by competing with the indelible memory of Whoopi Goldberg's work in the movie, but Stewart really makes the role her own, combining a bit of Goldberg, a bit of Tina Turner, a dash of Miss Cleo and more than a little Sweet Brown. I really expected her to say "ain't nobody got time for that" when Sam asked her to help him track down his killer. Stewart is the show's bright light and deservedly receives the loudest ovation at the curtain call.
The show also has some innovative set design that includes video projections which are used to give the famous subway scene its motion, add dancers to the on-stage dance troupe, or fill in parts of the physical sets. The movie also featured a host of supernatural special effects, and the musical manages to pull off a few eye-poppers including Sam walking through a door and people and objects levitating. The effects/illusions are used with restraint, but they add a certain magic to the show. The movie's levitating penny has been replaced with a self-folding letter, but the pottery scene is here — in a way — as is "Unchained Melody." If there was any one thing I had a problem with, it was the choreography which just seemed superfluous to the rest of the show. Just because it's a musical doesn't mean you need a stage full of dancers going through the motions. I found myself focusing on whoever was singing  whenever the dancers were on stage … and I love big production numbers (like the ones in White Christmas)!
If you're a fan of Ghost, the movie, then you should enjoy Ghost The Musical.
If you're a fan of Ghost, the movie, then you should enjoy Ghost The Musical. The cast is ultimately winning, there's a showstopper in the form of Carla R. Stewart, there are some nice musical numbers courtesy of Dave Stewart and Glen Ballard, and some nifty stage illusions conceived by Paul Kieve. The show may not become the cultural phenomenon that the movie did, but it's pleasant and engaging enough for a night's entertainment. Ghost The Musical will continue its tour after Baltimore in Tampa, Fort Lauderdale, Orlando, Worcester, Hartford, Minneapolis, Los Angeles, Costa Mesa and Las Vegas. Ticketing information can be found on the show's official website.
Photo Credit: Joan Marcus