Interviewing Haven's bromantic duo – Lucas Bryant and Adam Copeland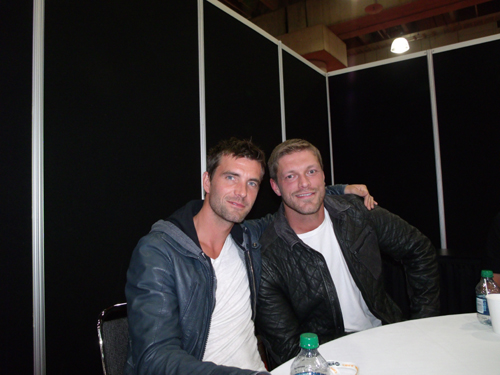 Lucas Bryant and Adam Copeland of "Haven" are two pretty men. In fact, they're so pretty, they're bromance-worthy. When Eric Balfour stopped by for a Balfour-Bryant kiss, it made the interview even MORE bromantic.
The resulting Balfour-Bryant snog made the roundtable EVEN more bromantic.
Lucas Bryant and Adam Copeland might not be brothers, but they play them on TV. OK. Maybe Lucas's curmudgeonly troubled cop, Nathan, and Adam's curmudgeonly troubled fixer, Dwight, aren't actual brothers on Haven, but they're as close as brothers can get. Nathan and Dwight always have each others backs and always look out for each other. Heck, considering both wore matching well-worn leather jackets atop classic, well-loved white t-shirts, they came across as twins who dress the same way by default.  Eric Balfour jumping into the interview while Lucas answered one of my questions. The resulting Balfour-Bryant snog made the roundtable EVEN more bromantic.
Before Eric interview-crashed, Adam joked about not letting anything get between their bromance while Lucas affectionately called Adam his brother with pituitary gland trouble. Although they're both almost-TV brothers on Haven, they have slightly differing opinions regarding the Nathan and Audrey relationship. Lucas would love to see Audrey and Nathan's filial love deepen without shifting into the romantic realm. He isn't a fan of TV shows that iteratively bring lovers together before tearing them apart while growing "tiresome" in the process. He believes that Audrey's platonic friendship with Nathan changed him without the romantic connotations. By contrast, Adam admits he doesn't want Nathan and Audrey to connect too soon, he wouldn't mind seeing it a couple seasons down the road.
During the interview, Eric Balfour popped over for a Bryant-Balfour bromantic cheek snog.
Lucas Bryant is incredibly intense. While he's lighter, more open, and more casual than his Haven counterpart, he still has a built in BS-detector. If he thinks your question's a shot in the dark, he'll let you know with a raised eyebrow and a skeptical glance. It's scary. I managed to ask him why he joined the Guard before his romantic relationship with Audrey formally instated. In my opinion, Audrey didn't need rescuing. He looked at me with that inscrutable Arnold Drummand-esque what-you-talking-about-blogger look until I admitted that, yes, Audrey WAS kidnapped, but she's still a pretty strong character. Once he understood, he started to explain why Nathan might join the Guard to protect Audrey from the nefarious Eric Balfour, who hearing his name spoken with vengeful ire, joined our little table. His Balfour-Bryant cheek snog made the interview even more bromantic.
After the whirlwind known as Eric Balfour left, both Bryant and Copeland agreed to their characters' covert brotherly bond. Lucas feels that if the writers introduced Dwight in season one, we might've seen more resentment. However, with his father's death, Balfour feels Nathan healed when season two rolled around and needed someone to trust 170%. Likewise, Adam feels his character needed someone to rely on 100%, otherwise he'd turn into a character who disliked everyone.
Are Lucas and Adam bromantic? Heck, yes. Are their characters brotherly? Hell, yea. Would you have it any other way? Eff, no.
Following is the transcript and video. For the bromantic kiss, click to minute five. Check out our other New York Comic Con  interviews!
Photo Credit: An Nicholson
This Post Contains Multiple Pages: 1
2