Take a magical, musical journey Into the Woods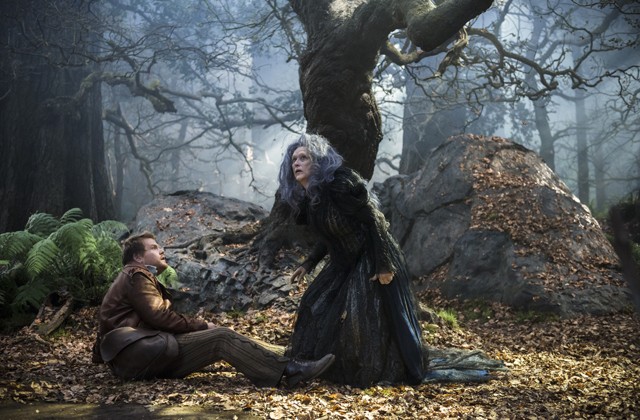 'Into the Woods' brings beloved fairy tale characters to musical life, but be warned that these tales are not for children.
Disney, musicals and fairy tales. A match as perfect as peanut butter and jelly or wine and cheese. Add some Stephen Sondheim into the mix, and you have a very curious combination. Of course the new Disney cinematic musical Into the Woods started out life on Broadway and as far from Disney as one could imagine … and seven years before Disney even hit Broadway with its own musical fairy tale, Beauty and the Beast.
Sondheim's take on some well-known fairy tale characters, like Cinderella, Rapunzel and Jack (of beanstalk fame), was more Grimm than Disney. Not many people realize that the tales we all know and love today, courtesy of Disney, are much darker and violent, and they don't always end happily ever after. In Sondheim's musical fantasia, our beloved fairy tales are close to what we know but with a little bit of a twist: a wicked witch is brought into the mix to stir things up after placing a curse on the home of the Baker and his wife (James Corden and Emily Blunt). Because of the misdeeds of Baker's father (he stole vegetables and magic beans from the Witch's garden), the house would forever be childless.
It's up to the Baker to bring the Witch four items: a cape as red as blood, hair as yellow as corn, a cow as white as milk, and a slipper as pure as gold. You can pretty much figure out which characters the Baker and his wife will run into in the woods.
As we meet each character, their stories are certainly familiar enough and the film seems to reach its climax with the "happily ever after" wedding of Cinderella (Anna Kendrick) and Prince Charming (Chris Pine). But young Jack's misdeeds at the top of the beanstalk have brought giants to the land below, turning the happy day into tragedy as the land is destroyed, people are homeless and hopeless, and only the resilient spirit of the Baker seems to make the others want to make peace with the giants by returning the stolen items. But the giants want more than their golden egg and magic harp back … they want Jack.
With the arrival of the giants, the film's bright, colorful palette turns dark and muted, as if dark clouds have come to cover the land. The characters become more human as well, and sadly, death will take some of them. It's here that you have to wonder what the folks at Disney were thinking. Is it such a good idea for them to produce a film that treats many of its most beloved characters so badly? Parents should be warned that Into the Woods is not a children's movie.
Disney has produced a fairy tale movie aimed at adults, and cast it with a who's who of amazing stars.
That being said, it's nice that Disney has produced a fairy tale movie aimed at adults, and cast it with a who's who of amazing stars. Blunt has already been nominated for a Golden Globe as Lead Actress in a Musical or Comedy and she is quite good. James Corden's Baker my be the film's true lead (and he acquits himself well, particularly with some of Sondheim's more complicated lyrics), but Blunt's Baker's Wife is the film's true heart and soul. She brings so much warmth and patience to her character that you can't help but to fall in love with her. And Blunt also has a lovely singing voice, bringing tears to the eyes as she closes out the film with "Children Will Listen."
Emily Blunt's Baker's Wife is the film's true heart and soul.
Anna Kendrick can sing, for sure, but I really didn't feel much for her Cinderella until she had a heartfelt moment later in the film at the ruined grave of her mother. She was much too flighty, but I did enjoy Christine Baranski as her Wicked Stepmother and Tammy Blanchard and Lucy Punch in the more broadly drawn roles of the stepsisters. Daniel Huttleston (Jack) and Lilla Crawford (Little Red Riding Hood) are major finds, giving great performances and tackling those lyrics with true professionalism. Pine and Billy Magnussen (Rapunzel's Prince) deliver the film's showstopping moment as they sing and try to outdo each other's proclamations of love with the song "Agony." The audience loved both actors' hamminess, showing us what total douchebags these two princes really are. Mackenzie Mauzy is, unfortunately, locked away a bit too much in Rapunzel's tower, and Johnny Depp shows up briefly as the Big Bad Wolf to leer lasciviously at Red Riding Hood. The role can come off as a bit creepy as he sings about the lusciousness of the young girl, but it's all in quest of a meal and nothing else.
Whenever Streep is on screen, you just can't take your eyes off of her.
Of course, the biggest star of the movie is Meryl Streep (Golden Globe nominee for Best Supporting Actress in a Motion Picture) and she can really belt out those songs. She also seems to be having great fun playing the haggard, old witch (breaking her own rule of never playing a witch after she was offered three witch roles when she turned 40) and then gets to glam it up as the curse on her is lifted. Whenever she's on screen, you just can't take your eyes off of her.
The film, which was shot on location in England, sometimes feels and looks a bit too stage-bound instead of opened up for the screen, but it also adds more intimacy to the story than you can get watching actors on a stage. I suspect the minuscule budget Disney gave Oscar nominated director Rob Marshall played a big part in the almost claustrophobic feel of the woods (there are very few interior sets). Colleen Atwood's costumes are also pretty amazing, appropriately regal and tattered, befitting the station of the character wearing them.
Is Into the Woods a perfect movie musical? That all depends on your taste in musicals. I've seen the stage version and I enjoyed the film much more. I think it was the music and the singing which drew me into the world more than it did with either stage production. I don't think it rivals Marshall's own Oscar-winning Chicago, but I enjoyed the movie very much. The only real negative impact the film may face is the downer of an ending. If you know going in that it's not going to end happily ever after for some, you may not come out of it feeling so negatively about the rest of the movie. You have been warned.
Photo Credit: Walt Disney Pictures