Jersey Boys is workin' its way back to you on Blu-Ray & DVD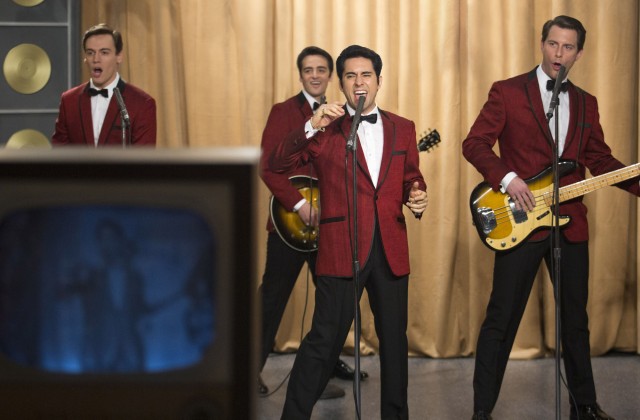 If you missed the opportunity to see Clint Eastwood's film adaptation of the runaway Broadway hit 'Jersey Boys' when it was in theaters this summer, don't worry. It's workin' its way back to you on Blu-Ray and DVD this week. What sort of bonus features can you expect in the home release?
I love musicals, and I love biopics. My eyes (and ears) have adored Frankie Valli and the Four Seasons since I was a kid and heard "Oh, What a Night" reverberate over the radio for the first time. I actually didn't realize that it was an "oldie" as a kid because it seemed to enjoy quite a bit of radio time around the time the group must have reunited for their Rock 'N' Roll Hall of Fame induction. Needless to say, I had high hopes for Clint Eastwood's film adaption of Jersey Boys, the musical based on the Broadway hit about their legendary rise to fame. However, I didn't ever go see it in the theater partially based on the seemingly unfavorable reviews it received, including CliqueClack's review.
I liked the way the film began, with Tommy DeVito (Vincent Piazza) telling you how the group first came to be and explaining to you the ways of New Jersey and what it's like being a Jersey boy. Actually, the asides from various members of the group throughout the film are a nice authoritative touch. While I also enjoyed the costuming and musical performances, I would agree that the film seems to lack a certain energy. At a little over two hours in length, I spent most of it waiting for Frankie to sing "Oh, What a Night" and really for the film to pick up with some major revelation or point of action. It feels like what should be big life-changing moments are quickly glossed over, such as when Frankie gets married to or even divorced from Mary (Renée Marino). There was the hint of delving further beneath the surface in the scene in which Frankie comforts his little girl on the stair, but it's almost as if they were afraid to take anything in this film too seriously. John Lloyd Young does a convincing portrayal of Frankie Valli, but I didn't see as much emotional depth with the role as I've seen in other biopics.
It feels like Jersey Boys just keeps ambling aimlessly along hoping you're just in it for the songs.
Spoilers: I don't know that I understand the financial troubles of the group or what Christopher Walken's character had to do with anything. I expected him to either bail them out of the debt instead of making Frankie do it alone or I expected him to order a hit on Tommy (that seemed like the proper Jersey way of dealing with it in my opinion). When neither of those happened, that's about where I gave up. Nothing exciting really ever seems to happen … it feels like Jersey Boys just keeps ambling aimlessly along hoping you're just in it for the songs. Perhaps they should've utilized Christopher Walken's talents more. He didn't appear in nearly as many scenes as I expected he would based upon the trailer and commercials.
Perhaps it's difficult to make a biopic when the main subject is still alive. Not saying that I think Frankie Valli has led a boring life by any means or even that I necessarily expect there to be juicier details about the problems plaguing the Four Seasons, but it just felt like something epic was missing. While it moves along in a more chronological order than the other biopic I watched this year – Get On Up – it didn't dazzle me quite as much as the other one did. The film does make for good eye and ear candy though.
The bonus features in the Blu-Ray/DVD Combo Pack are decent.
The bonus features in the Blu-Ray/DVD Combo Pack are decent. There is a fun vignette showing why Clint Eastwood chose to save "Oh, What a Night" for the ending dancing sequence in the streets (which was my favorite part of the film), as well as an interesting look at the challenges of bringing a big Broadway hit to the big screen and even one about what it was like working with Christopher Walken in his preparation for his "Godfather-like" role as Gyp DeCarlo. That man is an acting genius, but not even he was capable of saving Jersey Boys for me.
"Everybody remembers it how they need to." – That's also true of the audience.
The tagline reads, "Everybody remembers it how they need to." Perhaps that's also accurate of the audience and their collective memories after watching Jersey Boys. My boyfriend's parents gave it an enthusiastic "A+" rating upon viewing it, while my boyfriend felt it was closer to a "C" grade. He noted that it didn't contain anything personally offensive to him, but he felt it lacked anything that was likely to make him want to recommend it to other friends or family. I'd probably rate it at a "B" or "B-" myself, with the main redeeming quality being the exceptional music and that I couldn't get those wonderfully catchy songs out of my head even over a week later (of course that speaks more volumes about the tremendous talent of Frankie Valli and the original Four Seasons than it does about those in the film). I'd probably be more inclined to recommend the soundtrack more than I'd recommend the film, but I did enjoy it. Maybe this is one of those that you have to see for yourself, as your opinion could fall further along either end of the spectrum.
Photo Credit: Warner Bros. Pictures