Jupiter Ascending is a mess but still manages to entertain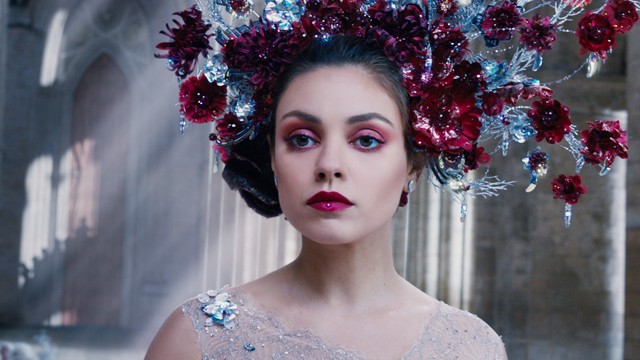 After the tour de force of 'Cloud Atlas,' The Wachowskis are back with the visually amazing but story-challenged 'Jupiter Ascending.'
The Wachowski's have had a varied and checkered career, bursting onto the cinema landscape with the groundbreaking The Matrix and then nearly crashing and burning with two Matrix sequels and Speed Racer. The siblings redeemed themselves (or not) with the outstanding Cloud Atlas, and now they are back with another stunning piece of work, Jupiter Ascending.
The question is, are viewers going to be stunned in a good or bad way? The film is definitely taking its hits already from critics and advance screening audiences, but I'm not going to be quite as harsh on the film as many people are.
The story itself goes something like this: Chicago resident Jupiter Jones (Mila Kunis) finds herself in the middle of an intergalactic tug of war when the Abrasax siblings squabble over which of them has the rights to harvest the Earth (and by harvest, they mean humans not crops). It turns out, however, that Jupiter is somehow genetically related to the Abrasax family, a reincarnation of the siblings' mother. This "recurrance" gives her the rights to Earth and each of the siblings woo her in such a way as to trick her out of her property, with Balem (Eddie Redmayne) going so far as marrying her … so he can kill her and inherit the planet. But why do these people actually need to harvest humans?
The story got lost amidst all the spectacle.
The plot sounds very straightforward, but the film is defiantly not so, throwing everything AND the kitchen sink into the works. Jupiter's protector is a human/wolf "splice" named Caine Wise (Channing Tatum), who may be unwittingly helping the bad guys. The film is also filled to the brim with other spliced humanimals, from a rat man to an absurd elephant man creature. And there are the big talking lizards as well as the tiny grey aliens. It seems that they've spent so much time on making each creature different that the story got lost amidst all the spectacle.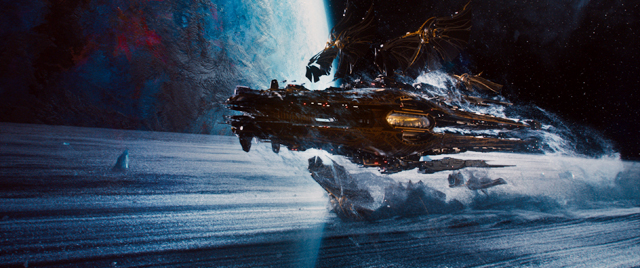 While they get so much wrong in the storytelling, the Wachowskis can always be counted on to do something right and that is definitely in the spectacle, the minute details on all of the space vehicles and planets, the kingdom hidden behind the clouds of Jupiter, and all of the various makeups and costumes. A few of the CGI shots are not quite up to snuff, but 99% of what's on screen is just mind-blowing.
As your senses are about to overload, you start thinking about the story again and realize you have no idea at all what is going on. Most of the scenes are filled with exposition, with characters trying mightily to tell us what's happening but in most cases it's all for naught. Jupiter is first taken to the Abrasax sister Kalique (Tuppence Middleton in some cringe-worthy middle-aged makeup) who shows her the wonders of a special mineral bath, then she's whisked off to meet younger brother Titus (Douglas Booth), who explains more about his nefarious siblings (but he's still not quite coming clean with her about why Earth is so important to them).
Freddie Redmayne could go from Oscar to Razzie nominee in the space of a year.
By the time she gets to Balem and discovers the truth, you've pretty much given up on really understanding anything, especially as Jupiter seems to switch from one emotion to another within the same scene. One minute she's talking to Caine, the next minute she's got dreamy eyes and wants to make out with him. Like, out of the blue. No lead up, no banter, no sexual tension. And ignoring the fact that he's half dog. It was very odd. And speaking of odd, I don't know whose idea it was for Freddie to whisper all of his lines, except for when he got VERY ANGRY, but it was a very weird, unintentionally hilarious character trait. Freddie is nominated for an Oscar this year as Best Actor (The Theory of Everything) and he could very well get a Razzie nomination next year for this.
Much has been said about Tatum's performance, that he looks bored or just disinterested but I didn't find him to be that way at all. I think he might have been thinking he had some ridiculous dialog to recite, but he carries himself well in the big action scenes. Kunis seems too restrained, like she really should be in another movie, and in fact that other movie is actually contained within Jupiter Ascending. The Wachowski's are huge fans of Terry Gilliam's Brazil, so much so that there is an entire, elaborate sequence that pays homage to the bureaucracy that Brazil pokes fun at. This one sequence is a comedy set-piece capped with a cameo by Gilliam himself, and it shows that the rest of the movie is taking itself way too seriously. Had the entire film been an absurd satire, I think Kunis and Tatum would have been able to loosen up more.
As it is, Jupiter Ascending is just a mish-mash of other, better (or just plain campy) sci-fi flicks like The Fifth Element, The Chronicles of Riddick and Flash Gordon, and it desperately needed more cohesion and more camp to make it something really special. We're left wondering if the long release delay was truly to hone the effects, or if perhaps the studio imposed a lot of editing that left a potentially great movie on the cutting room floor.
Photo Credit: Warner Bros. Pictures