Land Ho! is a lovely little movie about two older men on vacation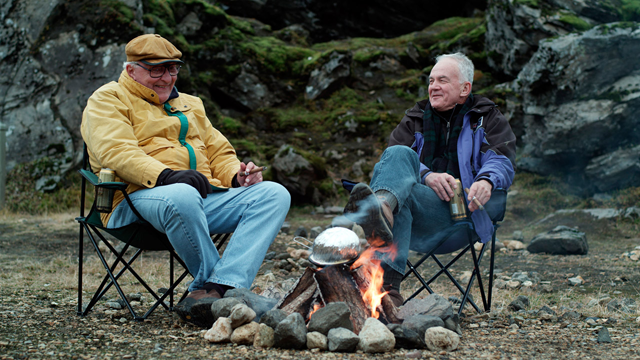 'Land Ho!' is a slow but nice indie movie about the most exotic adventure two old friends have ever had.
I predicted a few years ago that we'd see more and more movies about people in their twilight years, and I was right. Of course, that's not to say they will be mainstream blockbusters, because that's not where "the money" is, but there's still that voice out there. Getting older, thinking about your past and your past mistakes, these are things really anyone can relate to, but especially so the older you get. One theme that is certainly universal is that the older you get, the more you could wonder about your past because there's more of it to think about.
Another is that there's often a feeling, a desire, or perhaps a drive to escape the boring or humdrum nature of everyday life and experience a different place. There's a feeling that if you just see how it is "elsewhere" or in a place that is "exotic" that your entire world may be changed. That your future could be forever altered, changed from mundane to marvel. Or maybe it offers a brief look at how other people live and just simply expand our horizons. There's something there about film too, a medium that can also transport you elsewhere, but maybe that's not the point here.
Land Ho! is about two older gentleman with sadness in their history and dissatisfaction with their current lives. Gregarious and garrulous Mitch (relative newcomer to acting Early Lynn Nelson, who only started acting four years ago!) recruits his old friend and dour ex-brother-in-law Colin (Australian actor Paul Eenhoorn) on a vacation to exotic Iceland, where its actually not that icy. What follows is a lovely, low-key adventure where these two talk and experience the beautiful sights and interesting people of a foreign land while they grow a bit and learn a bit about themselves. Revelations are made, fun is had, arguments pop up occasionally, and what you get is a very "slice of life" sort of movie. This is just about a few days in the lives of these two ordinary people, discussing themes of growing older and losing loved ones. We see how they interact with new challenges and handle adversity, seeing these reflections on people that may seem very familiar indeed.
The two leads are really great together, bouncing off each other in a classic "odd couple" way.
This is a classic sort of indie-style movie about people but not events or big ideas, just a small scale and a small movie. I wouldn't say it's necessarily fast paced, more like easygoing. It was enjoyable, but the draw here is threefold. First, the two leads are really great together, bouncing off each other in a classic "odd couple" way. The exploration of their characters is one of the main things to take away here. Second, the environment; the natural settings of Iceland are showcased beautifully here, pulling you into the duo's experience and adventure. In a major way, that's part of the draw to any potential audience. But of course, then there's the theme. The title is evocative of this sense of "just ahead adventure," and even if the most dramatic thing is changing a tire in the rain or braving a large puddle, that can be excitement enough. So the reasons to watch this are the low key pace, the well written dialogue between the two men, the nice setting, and the underlying themes.
It's not the most interesting movie of the year, nor is it even the most interesting indie one. But sometimes it's nice to just see some decent quality stories about demographics you don't see often, and cinema is a way to provide that kind of insight. At the end, perhaps you'll see some of yourself in people like or unlike you, and that's a nice thing. Spreading empathy, that's the ticket.
Photo Credit: Sony Pictures Classics