Major Crimes: Why I hate you when I loved The Closer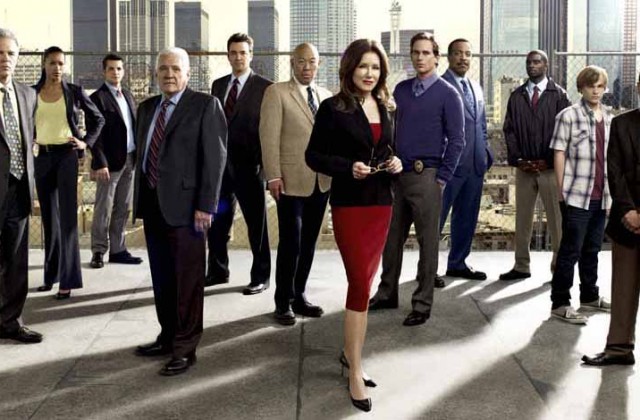 'Major Crimes' is a far cry from its predecessor 'The Closer.' I was a big fan of Kyra Sedgwick's show, but am struggling with Mary McDonnell's spin-off.
Late this summer, TNT's The Closer took its final bow, making way for spinoff Major Crimes. The Kyra Sedgwick lead drama ran for seven seasons, premiering in a time where basic cable was not known as a destination for quality dramatic television. Battlestar Galactica debuted earlier that year on Sci-Fi, but the landscape certainly isn't what it is today, with shows like Mad Men, Breaking Bad and Sons of Anarchy ruling the roost.
The wave of basic cable quality coincided with the rash of established film stars moving to television. Sedgwick definitely increased the show's visibility early on; she was on the main reasons I watched in the first place. The Closer quickly established that it was more than simply a Sedgwick vehicle. The ensemble cast, full of kinda-recognizable faces, proved to be a sum that was greater than its parts. Several members of the cast – specifically Corey Reynolds and the Police Academy movie's G.W. Bailey – stood out, but the show's success was borne out of a group effort.
All good things, as they say, come to an end, and when TNT announced that the show's seventh season would be its last, I was far from surprised. Rumors of a spinoff built up, and the pick-up announcement for Major Crimes happened several months later. I'd always enjoyed Mary McDonnell's Sharon Raydor, and was intrigued by the idea of her character leading Major Crimes – the division and the show. Sadly, though, in execution, Major Crimes doesn't live up to the legacy of its predecessor.
Sadly, though, in execution, Major Crimes doesn't live up to the legacy of its predecessor.
In the last season and a half, while I have grown to like Sharon Raydor – and Sedgwick's Brenda Leigh Johnson found a grudging respect – the rest of the Major Crimes squad does not. Long time fans of The Closer will remember this plotline; it defined the entire first season (remember how the first and final episodes were bookended by rifling through a pile of transfer requests and later threats to resign on Johnson's behalf). It makes sense for a new leader – especially one who was so recently seen to be at odds with the team – to have to prove themselves. Unfortunately we've seen it all before, and I don't have a big desire to see it again.
In the first episode, Asst. Chief Taylor talked about a new focus for Major Crimes. Where the Johnson-lead team focused on closing cases with an emphasis on her skills as an interrogator, Raydor's Major Crimes will look to following cases to conviction and – knowing the new boss – following the rules. I don't watch Law and Order for a reason, and I've never thought that following the rules made for good television.
Seven seasons has become an unofficial standard length for TV shows to aspire to. To be sure, some are lucky enough to last longer – the aforementioned Law and Order and ER immediately spring to mind – but many shows lose steam at the seven-season mark. One of the primary reasons has to do with the cast; many actors seem to want to move on and find a new challenge. Most of the cast carried over from The Closer; how long will it be, though, before they want to move on? Some already have: Reynolds' Det. David Gabriel left Major Crimes to follow Johnson to her new job. Reynolds truly shined in his dynamic with Sedgwick, so there's some logic to his departure. Sadly, though, he's one of my – and Jaylen's – favorite characters on the show. Major Crimes is a lessor show because of that.
Finally, while I like Sharon Raydor, the show has done very little to develop a reason to care about her home life. Rusty, introduced in The Closer finale, is easily one of the most obnoxious and annoying characters introduced on television since Smash's Ellis. He adds very little other than a reason to see Raydor's home life, and other than Rusty, there's nothing there.
If we're lucky, producers can course correct in a hypothetical second season.
Through the first couple of episodes, Major Crimes isn't a bad show. But with The Closer as a very real legacy – and a major part of the show going forward – I had much higher hopes. If we're lucky, producers can course correct in a hypothetical second season. First off is dumping Rusty like yesterday's news; I'd also expect the awkwardness of Raydor leading the team to be worked out by then, Provenza's stubbornness aside. There is probably enough left over fans from The Closer to shepherd the show into season two, but it will be on it's own after that. If things don't change, though, I don't have much faith beyond that.
Photo Credit: TNT