Classic movie musicals sparkle on Blu-ray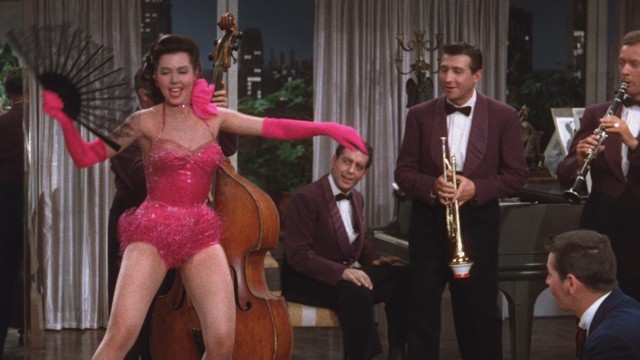 MGM produced the best movie musicals of the 1950s and now Warner Brothers presents 'The Band Wagon,' 'Kiss Me Kate' (in 3D!) and Warner's own 'Calamity Jane' on Blu-ray for the first time. And the wait was worth it.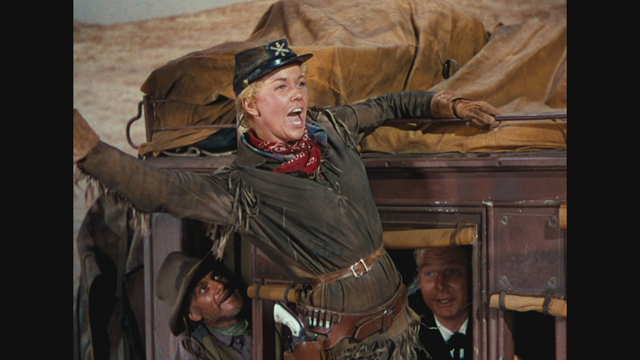 Next up in the collection is the Warner Brothers musical Calamity Jane (1953), starring Doris Day and Howard Keel. Unlike the majority of the MGM musicals, Calamity Jane uses a lot of actual outdoor locations in addition to the studio which gives the film a more realistic feel. The film stars Day and Keel as actual people, Calamity Jane and Bill Hickock, in the Dakota Territory of Deadwood (long before the HBO series). The town's saloon, The Golden Garter, needs a big star to stay in business so Jane heads to Chicago to bring back a famous music hall singer, but inadvertently brings back the maid of the star who is only too happy to pretend she's who everyone thinks she is. Her ruse is discovered, but Jane convinces the men of the town (and Jane appears to be the only woman in sight) to give the girl a chance, but she also becomes a romantic obstacle for the one man Jane pines for.
Doris Day can sell just about any character, but it takes a while to warm to the brash Calamity Jane (whom everyone calls "Calam" for short which just doesn't sound right at all) with her loud personality, tomboyish behavior and "Wild West" diction (always referring to Chicago as "Chicagy" for example). When Katie Brown (Allyn McLerie) comes to down and works her magic on the men and manages to feminize Jane a bit, Day tones down and becomes a much more sympathetic character. The film's score is lively but doesn't feature many familiar songs except for the Oscar-winning Best Original Song "Secret Love."
As with The Band Wagon, the Blu-ray image (also in 1.37:1) is bright and colorful, and so sharp that the rear projection shots stand out like a sore thumb. The audio presented as a DTS-HD Master Audio Mono track, but is very well balanced with the voices clear and never drowned out by the music. Special features on the disk include:
So You Love Your Dog (10:31) — Weird comedy short from 1953 about a traitorous dog that causes even more trouble when he comes home from war, including derailing trains and burglary, and his oblivious owner.
Duck Dodgers in the 24 1/2 Century (7:04) — The classic 1953 Daffy Duck cartoon.
Western Style Premiere (0:44) — Short newsreel featuring the Dakota premiere of the film.
Photoplay Magazine's Film Awards (0:51) — Doris Day is selected as the most popular actress in America.
Theatrical Trailer (3:01)
Photo Credit: Warner Bros Home Entertainment