A fond look back at the bizarre beauty of The Mystery of the Third Planet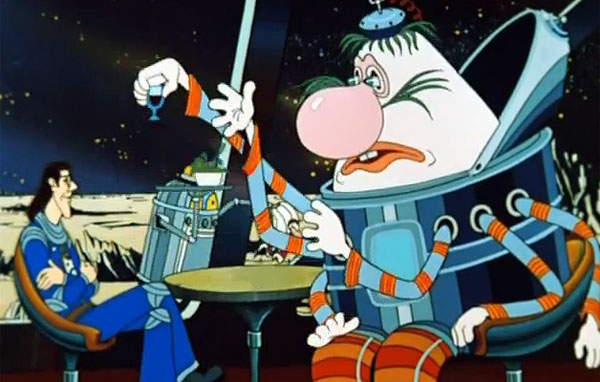 Thanks to the Internet, finding obscure childhood favorites is now easier than ever before. Join me as I take a look at 'The Mystery of the Third Planet,' a rare animated gem that comes from Cold War-era Russia with love in this week's Throwback Thursday installment!
Henry Wadsworth Longfellow once observed, "The heights by great men reached and kept were not attained by sudden flight, but they, while their companions slept, were toiling upward in the night." Have you ever tried to look for a needle in a haystack for the one you love? Maybe you have, but I'm betting most of you out there haven't. We go about our daily routines toiling our lives away to achieve a piece of that poetic greatness Longfellow described, only maybe occasionally taking time out to make those we love smile.
Several months back, I was blogging about a space cartoon (Hanna Barbera's Space Stars) and reminiscing about a title whose name had escaped me. I erroneously thought it was titled The Third Planet from the Sun and was frustrated that I couldn't find ANY evidence of it on the Internet. I hadn't seen this cartoon since I was maybe 12. I knew I wasn't crazy or making it up. I'm happy to report that my boyfriend finally found it for me on the Internet – its correct title is The Mystery of the Third Planet and the entire cartoon can be found on YouTube (in English and Russian, but we'll get to that later).
As soon as that bittersweet-sounding music cued up and the narrator began the tale, "This is the story of an adventure that will take us beyond our universe to the third planet in the system of the sun of Alderaban, where strange creatures are to be found, where we hope to solve a mystery," I got a little misty-eyed as the memories of watching this repeatedly at my grandparents' house flooded over me in nostalgic waves. It represents a time in my life in which I couldn't get enough of anything involving space exploration, for it was my childhood dream to be an astronaut.
The animation on The Mystery of the Third Planet is bizarrely beautiful and highly imaginative … from Cold War-era Russia with love.
The animation on The Mystery of the Third Planet is bizarrely beautiful and highly imaginative, which sums up my style pretty well. To put it simply, it looked different than any of my other cartoons. To this day, I still don't think I've ever seen anything quite like it. There are a lot of reasons why it didn't look like anything else I was watching as a child. Upon doing some Internet research, The Mystery of the Third Planet (a.k.a. The Secret of the Third Planet and Tayna tretey planety in Russian) is an animated feature from 1981 that was produced by the Soyuzmultfilm Studio in Moscow and directed by Roman Kachanov. What are the odds that my beloved cartoon came from Cold War-era Russia with love? It's based on a children's science fiction novella titled Alice's Travel from the Alisa (Alice) Selezneva book series written by Kir Bulychov. While considered a cult classic in Russia, I'm betting most other U.S. children of the '80s do not share my affinity for this movie – and that's truly a shame.
The year is 2186, and the plot revolves around a girl named Alice, her father Professor Seleznyov and his right-hand man Captain Green who embark upon a space expedition to gather rare animals from across the universe for a planned space animal zoo on Earth. Along the way, they get caught up in the world of espionage and a mystery involving the disappearance of Captains Kim and Buran, as well as the extinction of speak birds, who only speak the truth and mimic everything they see and hear (imagine how popular these would be in real life!).
For some inexplicable reason, the main characters were renamed Kristen and Professor Adam Steele in the English-dubbed version that I am familiar with, although Commander Green was not renamed. It was released in the United States first in 1987 and again in the 1990s on VHS. According to Wikipedia, Alice and the Mystery of the Third Planet was also released on a 1999 DVD collection and various other DVDs with different cover art. I would love to own a copy of this in my personal collection, but it seems hard to come by unless you order it on Amazon or a like site.
The planets' backdrops and inhabitants are so visually wild they're not to be missed – especially that planet at the end.
One of the most interesting characters is introduced early on – Ramos, the loud-mouthed colorful "person" with wild, green hair, googley eyes, a bulbous nose, multi-arms and roller skates found on the planet Bluke who is also an expert in rare animals (pictured above). Some of the more elusive figures include Dr. Bentley, Kim and Buran, and Nobody, a pig-like creature that looks and sounds like a throwback to Peter Lorre, down to his laugh and mannerisms. The planets' backdrops and inhabitants are so visually wild they're not to be missed – especially that planet at the end, which is exactly where I would want to live out the remainder of my days minus those ugly, menacing spear birds. That flora and fauna look so enchanting! Where else but this movie will you see a purple flying cow, a diamond turtle, mirror flowers, robots waiting tables in a diner offering "Earth breakfasts" or rocks that are capable of projecting images from the past? Those who know me best will probably have little difficulty understanding why this was one of my childhood favorites.
If you're looking for an animated movie that is as vibrant and imaginative as it is obscure, you can't go wrong with The Mystery of the Third Planet. It moves at a fast pace with lots of twists and turns along the way that translate into it not being everyone's cup of tea. But it was certainly something I really enjoyed as a child that I'm happy beyond belief to be able to share with others today as part of this unusual Throwback Thursday installment of CliqueClack. Sometimes when you go looking for a needle in a haystack, you can make a person's day with the smallest amount of effort.
If you watch the 1995 version on YouTube (Alice and the Mystery of the Third Planet), it has a different dialogue and the names haven't been changed. This leads me to believe that it might more closely follow the Russian translation. However, this is not the movie and dialogue I remember from my youth. I find the variances in the different versions further add to the tale's mysterious charm.
Photo Credit: Soyuzmultfilm Studio