Newsies is high-kicking, toe-tapping, pure entertainment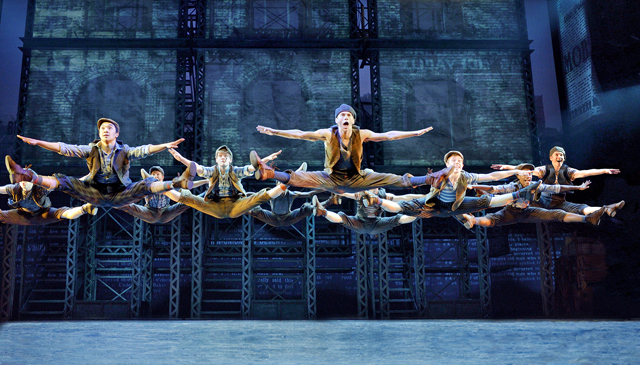 Disney's 'Newsies' has gone from flop-to-cult movie to Broadway smash, and the new nationwide tour is something that is not to be missed.
Now this is a Broadway musical in every sense of the word. And who would have ever thought that Disney's flop musical movie from 1992 — starring an 18-year-old Christian Bale in only his fourth theatrical film — would have developed such a cult following that the studio saw enough potential in it to bring it to the stage? Adding music by Alan Menken and Jack Feldman, who wrote six new songs for the show while keeping several from the movie, and a book by Harvey Fierstein helped shape the film into the stage extravaganza that has wowed audiences since its Broadway debut (the show was intended to run for only 101 performances, but demand kept it going for 1005).
The story of Newsies is based on an actual event: the "Newsboy Strike of 1899″ which saw a band of orphans and runaway newsies (the kids who sold newspapers on the streets for the major publishers) go on a two week strike against publishing giants Pulitzer, Hearst and others in New York City. The show tells the story of the fictional Jack Kelly, the leader of the ragtag group of newsies, who dreams of a better life in Santa Fe. When Joseph Pulitzer raised the distribution prices on the newsboys in order to sell more papers, Jack rallies the newsies from across the city to strike for what's right … even when romance, double-crosses and a sweet deal get in the way.
Hearing voices in perfect harmony is one of the most beautiful sounds in the world.
The moment the orchestra hits its first note, you know this is what a big Broadway musical is all about, and when the massive cast of "newsies" takes to the stage and raises their voices together in perfect harmony, it is one of the most beautiful sounds in the world. Add to that the acrobatic choreography by Christopher Gattelli and you have something magical taking place before your eyes.
Dan DeLuca also has a wonderfully unique voice full of emotion and power.
And the cast is massive, led by Dan DeLuca as Jack. DeLuca can put on a tough exterior when dealing with the newspaper people, but he shows us his heart too when he's trying to look out for his boys. He has a real soft spot for Crutchie (Zachary Sayle), and you believe their brotherly relationship. DeLuca also has a wonderfully unique voice full of emotion and power, depending on the situation. Sayle, whose character sadly disappears for much of the second act, is the show's bit of comic relief as he has to navigate the stage dragging his leg and hobbling with a crutch (hence his name). But when he's attacked, we also feel for him because he can't defend himself. That's the proof of a good performance.
But it's not all men on stage all the time. Stephanie Styles, as a girl reporter who butts heads with Jack and then begins to fall for him, has the perfect pluckiness for the part and a powerful voice as well. Angela Grovey, as cabaret owner Medda Larkin, pretty much steals any scene she's in (unfortunately, not many) and her one musical number, "That's Rich," is a showstopper. Steve Blanchard also stands out as Pulitzer with his deep, powerful voice whether speaking or singing.
Towering over everyone is a wondrous set consisting of three 24-feet towers with three levels that are fully automated and can move 14 feet up and down the stage, rotate 350 degrees and reconfigure to create tenement fire escapes, a theatre's backstage, the Brooklyn Bridge and the basement of Pulitzer's building. The towers also have screens which raise and lower for the lighting and special projections that help set the scenes. The 33 cast members run up and down the stairs to perform on any and all of the three levels throughout the show, making this one of the most physical productions I've ever seen. It really is a wonder they're all not exhausted by the end of the first act.
If you like your Broadway musicals big and flashy, then Newsies is the show for you.
If you like your Broadway musicals big and flashy, then Newsies is the show for you. Great story, great performances, great singing and dancing, great production all around, this is the show to see when it comes to your town. Newsies is at Baltimore's Hippodrome Theatre through Sunday, December 7 (it will be in Washington, D.C. June 9-21) and will hit major cities across the country including Chicago, Atlanta, Orlando, Charlotte, Miami, San Francisco, Las Vegas, Los Angeles, Dallas and more (alas, not Santa Fe). To get more details about the show and ticket information, click on the banner below.

Photo Credit: Disney/Deen van Meer