Once brilliantly brings music and love to life on stage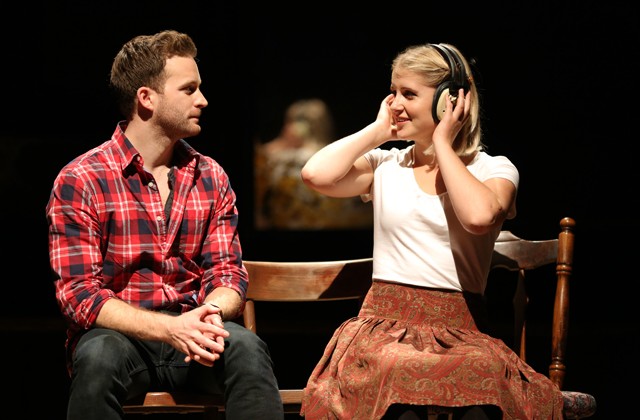 Movie musical-turned-stage musical 'Once' is touring North America with charming performances and great music that will have audiences falling in love from coast to coast.
In 2006, a small Irish movie made some big waves, becoming a sleeper hit and earning an Academy Award for Best Original Song. That movie was Once, the tale of an Irish musician and a Czech immigrant who meet, discover a common ground with music and begin writing songs together that express their growing relationship. While the plot may have been a bit thin, the movie succeeded on the back of the music by film's stars Glen Hansard and Markéta Irglová, including the Oscar winning "Falling Slowly."
The film seemed an unlikely choice to be transformed into a Broadway musical, but writer Enda Walsh and director John Carney (who also directed the film) found something magical about the music and created a show that went on to win eight Tony Awards including Best Musical. Now Once is touring the North America and has made its second stop (of thirty-three engagements) at Baltimore's Hippodrome Theatre.
Unnamed Guy (Stuart Ward) is a struggling musician who fixes vacuum cleaners in his dad's shop while pining away for the girl who got away … far away to New York, leaving Guy ready to ditch his music because it all reminds him of her. A chance encounter with Girl (Dani de Waal), a Czech immigrant with a young child and marital issues, ignites the musical spark in Guy once again as they become collaborators with the dream of producing a CD. Girl keeps pushing Guy to take off for New York to find his lost love, but Guy's feelings for Girl are deepening, causing complications for them both.
I was pleasantly surprised by how funny the show really is.
I didn't know what to expect from the show – not having seen the movie – and the TV commercials made it seem like a melancholy love story, but I was pleasantly surprised by how funny the show really is. In fact, the audience is a part of the show upon entering the theatre as members are welcomed on stage to mingle with the cast, have a drink from the on stage bar, and enjoy a few musical numbers before the actual show begins. You actually feel like you're a part of the story by the time the lights dim and the actual story gets started.
The show works around a single set that become many different locations through the movement of the cast, various props and lighting. One minute it's a music shop, the next it's Guy's bedroom and then a recording studio. The production is brilliantly designed to move from place to place as smoothly and quickly as possible without ever actually moving anything more than a few chairs or tables.
Contributing to the show's many charms is the company of actor/musicians who rarely leave the stage, usually lined up and seated on either side of the stage when they're not part of a scene, but also contributing to the music when needed. Each of them also has a specific character as well, so they all get a pretty good workout with acting, dancing and playing an instrument (in some cases, several different instruments).
Stuart Ward has a magnificently raw and powerful voice and he gives Guy a lot of heart.
But the stars of the show are Ward and de Waal. Ward is perfectly angsty and angry as the show begins but he never goes into a caricature. He is a real person with real feelings and frustrations over his situation. He also has a magnificently raw and powerful voice that can deliver the sweetest melodies and powerful, aggressive vocals sometimes in the same song. He gives Guy a lot of heart and we as an audience want to see him succeed. De Waal is absolutely charming with her Czech accent and dry humor ("I'm always serious. I'm Czech."). Her Girl is almost like an angel sent to give Guy the kick in the butt he needs, and even without saying as much, we can tell she's falling in love with him as he is with her. De Waal has a solo late in the second act that will just make your heart ache as she privately expresses her feelings in song. It's a remarkable performance all around.
Dani de Waal has a solo late in the second act that will just make your heart ache.
I don't think it's possible for anyone to not fall in love with Guy and Girl by the end of the show. The music is terrific, the performances are magnetic, and the production just draws you in to this world of love and music. The story uses the film's framework as a starting point, but giving Guy the lost love as the impetus to create his music is a bit stronger for storytelling than the movie's Guy who just doesn't have the confidence to perform his songs. Overall, Once is just a lovely show to savor if it comes to a venue near you.
Once runs through September 14 in Baltimore, then heads across the country with stops in Nashville, Charlotte, Madison, Memphis, Cincinnati, Dallas, Tulsa, Detroit, Austin, Houston, New Orleans, Tucson, Sacramento and more, concluding at the Kennedy Center in Washington, DC in July 2015. Visit the show's official website for more details.
Photo Credit: Joan Marcus