Download free passes for Penguins of Madagascar in Baltimore, DC or Virginia Beach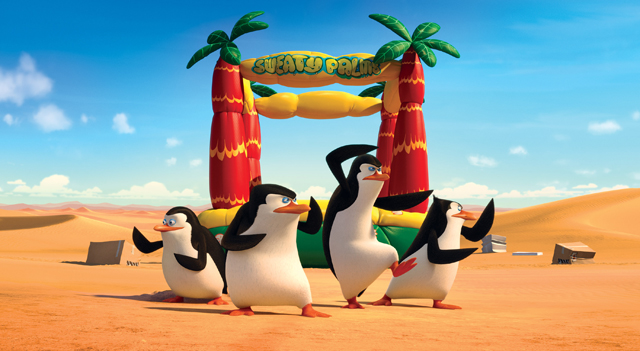 The 'Penguins of Madagascar' are back in their own movie, and you and your family can be among the first to see them. Find out how you can download passes to the special advance screening.
CliqueClack has partnered with DreamWorks Animation to offer readers in Baltimore, DC and Virginia Beach an opportunity to attend an advance screening of the new animated family film Penguins of Madagascar with the voices of Tom McGrath, Chris Miller, Christopher Knight, Ken Jeong, Peter Stormare, John Malkovich and Benedict Cumberbatch.
Super spy teams aren't born—they're hatched. Discover the secrets of the greatest and most hilarious covert birds in the global espionage biz: Skipper, Kowalski, Rico and Private. These elitists of the elite are joining forces with a chic undercover organization, The North Wind, led by handsome and husky Agent Classified (we could tell you his name, but then—you know), voiced by Benedict Cumberbatch. Together, they must stop the villainous Dr. Octavius Brine, voiced by John Malkovich, from destroying the world as we know it.
The screening will take place on Saturday, November 22 at 10:00 AM. To download your free passes, click on the location of your choice. You will be redirected to GoFoBo.com where you will be able to download passes good for up to four people.
Mobile users can access passes for DC at http://www.gofobo.com/CC6372. Passes for Baltimore are available at http://www.gofobo.com/CC7812. Virginia Beach passes can be downloaded at http://www.gofobo.com/CC6482. CliqueClack is not the administrator of passes for this screening. No comments will be accepted on this post.
Please note that passes do not guarantee seats at the screening. Seating is first come, first served so plan to arrive early. CliqueClack has no control over the total number of passes distributed, and is not responsible for seating arrangements at the theater.
Penguins of Madagascar is rated PG for mild action and some rude humor, and is in theaters November 26.
Photo Credit: DreamWorks Animation