I know who to blame in Revolution's "Nobody's Fault But Mine" – the writers!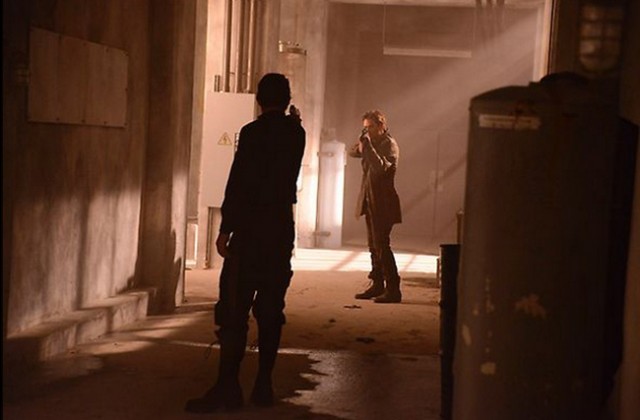 The mid-season finale of 'Revolution' showed us more of the same: dimensionless characters, on-the-nose dialogue and plot holes big enough to fly a helicopter through. When will they turn this show around?
Another limiting factor is the on-the-nose dialogue. In real life, people rarely say exactly what they are thinking; our conversations are riddled with subtext. Revolution hasn't learned this screenwriting trick yet. The worst example of this are the hallucination scenes when they are in the tunnels below Philadelphia. First of all, those are the most linear hallucinations ever — Miles walks into a room and has a full conversation with Monroe? Why don't pink elephants walk by? Or killer clowns? Or anything out of the ordinary since these hallucinations are brought on by the lack of oxygen in the tunnels? Then multiple times both characters call out the fact that this is a hallucination and that Monroe is really just Miles' subconscious talking to himself. Ummm … we get that. You don't need to mention it in dialogue numerous times. When I watch Dexter I know that Harry is really the voice in Dexter's own head helping to control his dark passenger. I don't need Harry to state every time, "Well, you know, Dex, I'm dead and not really here and I'm just a tool your brain uses to deal with your sickness." The writers used this over the top hallucination to tell the audience that some part of Miles wants to rejoin the militia, but it could have been done in much more interesting ways, not just stated in obvious dialogue.
But all of these situations and exposition lead to the climactic scene we've all been expecting (although not highly anticipating) – the confrontation between Miles and Monroe. They built up this clash the past few episodes showing the friendship and brotherhood these two men shared before and during the blackout. Monroe asks Miles to come back to the militia because they are family — brothers; and there's a moment Miles considers it. It would be an emotion filled scene except for one minor little problem. Miles had a brother. His name was Ben. You might remember him as being the father of the most annoying and forgettable children ever to survive an apocalypse (Charlie and Danny, respectively). Oh, and one more thing … Monroe's men killed him. Let me channel the Revolution writers and spell that out for you again: Monroe's men murdered Miles' brother. The entire reason Miles went on this adventure was because of Ben's death, yet this never comes up once during their confrontation. That seems like a big deal to overlook, doesn't it? Even if Miles hated Ben I think someone murdering him in cold blood in front of his family would generate some response. But it doesn't and once again the writers fail to take advantage of an opportunity to create real conflict and drama among its core characters.
It's these types of omissions of common sense, and poor storytelling, that distance the viewers from the characters. If we can't put ourselves in their shoes, empathize with the problems they face, then we are never going to root for them to achieve their goals. Revolution has a few months hiatus before they continue with their story-line, so let's hope the writers devise a plan for the second half of the season to draw audiences in and connect with the characters, or else they may suffer the same cancellation fate of other high concept shows of seasons past.
Photo Credit: NBC
This Post Contains Multiple Pages:
1
2