TNT's 'Rizzoli & Isles,' a real hit on Season Four DVD!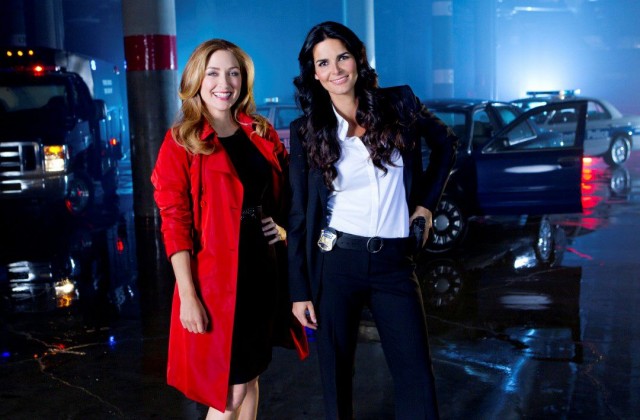 Conspiracy theorists. Serial killers. Drug traffickers. That's all in a day's work for Rizzoli & Isles! TNT's hit show manages to keep things fresh on its season four DVD set! Get writer Jaylen Christie's take on the fun procedural and make plans to purchase it!
It's fascinating to me how prominent cable networks have become as I've gotten older. Let's take TNT for example. Over the past ten years, the network has developed some pretty impressive programming – gritty dramas and captivating procedurals that manage to keep audiences glued to the screen. Rizzoli & Isles is one such program.
Based on the popular novels by Tess Gerritsen, Rizzoli & Isles premiered back in 2010 and has been going strong ever since. In fact, I do believe it's one of TNT's sturdiest shows. I know that's what my mother believes. She and my father watch it religiously. Me? I tended to gravitate towards The Closer – one of TNT's other stand out procedurals. However, I think I may be hopping onto the Rizzoli & Isles bandwagon. A simple look at season four of the show, starring Angie Harmon (the one actress who honestly never seems to age) and Sasha Alexander (who's easy on the eyes as well), was all it took to get me hooked like a fish. Consider me entertained.
Newly released on a four disc set, season four of Rizzoli & Isles is both sharp and engaging. All sixteen episodes are included in the set and feature non-stop action and a few laughs – a good mix in my opinion. The premise – two women: one a badass cop (Harmon), and the other a clever medical examiner (Alexander) saving Boston from a bunch of baddies is certainly fresh in a television arena that is overly populated by men. The characters Jane Rizzoli and Maura Isles are good friends and good at their jobs for that matter. Together, they use their proficient dexterities and instincts to examine cadavers, nail criminals and ultimately crack the case.
Storylines this season include Rizzoli pondering starting a possible romance with a gentleman who isn't in her zip code … because everyone knows that long distance relationships can work, right? Meanwhile, Isles is struggling to cope with issues involving her biological family as she learns more about their shady past. Other plots include the duo investigating a number of typical cases such as a deadly shooting at a community parade and the brutal killing of an overzealous journalism student.
Yikes! That's what I studied in college.
I digress. Here's something worthy of note – Rizzoli & Isles has indeed remained a top ratings performer on TNT. During season four, the procedural was number one among total viewers, adults 18 – 49 & 25 – 54 and women 18 – 49 & 25 – 54 in its Tuesday time slot at 9:00 p.m. Impressive, right? Furthermore, it averaged nearly eight million viewers per episode resulting in a seven percent increase versus season three.
Now that's worth bragging about!
I'm a sucker for bonus features on DVD releases, so I'm happy to report that Warner Brothers included a couple. There are two special features : a documentary detailing how one of the executive producers' past as a journalist helps to make details of the plot seem more authentic, and a rather nice documentary on how the production crew set out to transform Los Angeles into Boston which is where the show is set. Each episode is presented in widescreen and is about an hour long. The total time is 673 minutes. It is also presented in Dolby Digital with 5.1 surround sound.
If you're into fun procedurals and sharp writing then you certainly can't go wrong with Rizzoli & Isles: The Complete Fourth Season.
Watching anything else would be a real crime.
Hey, you! I have an idea! Follow me on Twitter @thersuperflynerd
Photo Credit: TNT Networks