Rosewater is a mesmerizing look at the horrors of an oppressive regime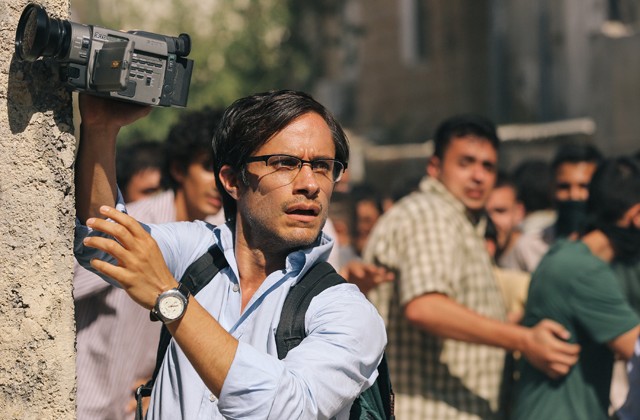 'Rosewater' is the terrifying true story of an Iranian reporter held hostage for 118 days for revealing the truth about political protests, but Jon Stewart's skills at writing and directing make the film gripping and thought-provoking.
Rosewater is the true story of resilience. It is about a little boy who grows up in Iran, a world filled with love of family, strength of character and danger. Maziar Bahari (Gael Garcia Bernal) grows up in a family of activists. At the early age of nine, he witnesses first-hand the atrocities one must endure when one wishes to be free and to have their voice heard. His father, Baba Akbar (Haluk Bilginer ), and sister Maryam (Golshifteh Farahani) were both imprisoned and tortured for speaking against the government of Iran and the "Supreme Ruler." As a man, he stands on the precipice of a new world where 75% of the people of Iran are under the age of 35 and knowledgeable of the freedoms of the world thanks to cell phones, the internet and mass media. They are ready for change.
Bahari, the reporter from Newsweek, covers the elections of 2009 between Mahmoud Ahmadinejad and Hossein Mousavi. He objectively films both sides in the election. The election appears to be rigged when he receives a call from Ahmadinejad's headquarters claiming victory way before the polls are closed. He knows there will be trouble, and he is supposed to go back home to his pregnant wife, but he decides to stay. Maziar covers the protests and witnesses the shooting of several protesters, both men and women. He releases the tapes to Newsweek and naïvely thinks he will be okay. The next day he is awakened by two men who arrest him and take him away. Will Mazair Bahari make it out of captivity alive or will he meet the same fate as his father and sister — an early death?
Rosewater at its simplest form is about media suppression and to what lengths a country, a people, will go to suppress the truth. Atrocities are happening all over the world and Rosewater brings to light the degree to which a country will go to keep the truth from its people and the world.
Rosewater has so many layers to it that it's hard to digest them all in one viewing.
The film has so many layers to it that it's hard to digest them all in one viewing. It's like peeling back the layers of an onion 'til you get to its core, or picking one rose petal at a time 'til there are none left. It captures you, enraptures you so you want to stay put 'til you see the very last bit of it. I was mesmerized by the beauty of the land and the simplicity of a people goaded by a common cause. To fully capture the essence, the subtle nuance of all that is occurring, you need to see this movie several times.
I was totally unprepared for the beginning of Rosewater. Me and my spoiled American ways, I am used to sitting back and enjoying the movie I'm watching with no work involved. Rosewater did not let me do that. The beginning of the film was breath-taking but it was in Farsi, the language of Iran ,with English subtitles. I always find movies with subtitles taxing because you often miss things going on in the movie while you are reading the text, or you miss something important a character says because you are looking intently at what's going on on the screen. I did both, wishing I could hit the rewind button so I could see what I missed. Jon Stewart did a fine job on his directorial debut.
Is it wrong of me to say I loved this movie? Not because of the horrific atrocities Maziar Bahari had to endure for 118 days in solitary confinement, but for the triumph of the human spirit. In the midst of all this man's suffering, he could find humor in his captors taking interest in his sexual practices; that they could find comfort in admission of his wrong-doing and give him a reprieve from torture. Shear madness to you and I, but to his captors they thought they were breaking him, making him conform to their ways.
Silencing the freedom of human expression robs the entire world of its voices. Rosewater would not let the voice of the people of Iran be silenced thanks to Mazair Bahari and the many people who fought for his freedom. Jon Stewart got it right. I'm already excited to see it again.
Photo Credit: Open Road