She & Him's Volume 3 has lots to love, but nothing new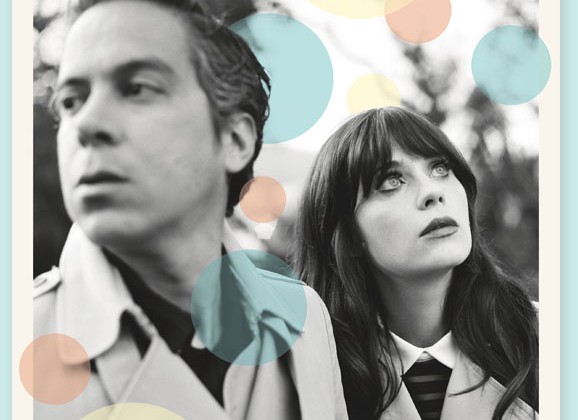 She & Him's new release offers lots of summery tracks worthy of a listen, but not a lot that hasn't been heard before.
She & Him, the joint music project of Zooey Deschanel and M. Ward, is set to release their third studio album, Volume 3. If you've heard the single "Never Wanted Your Love," you've heard the album, and that's a good and a bad thing. If you like She & Him's brand of adorable, vintage-inspired songs that sound like bottled sunshine, the good news is that Volume 3 is more of the same. But if you're looking for variety or mold-breaking, Volume 3 is not the album you'd go to to find it.
Volume 3 is an album of highs and low, which, much like Deschanel's voice, switches between strong on some tracks and blaring and cutesy on others. At its best, Volume 3 is a sweet summer album, a palate-cleansing respite from the usual bass-heavy party anthems that dominate the summer pop charts. The three cover tracks (Blondie's "Sunday Girl," "Baby" by Jeff Barry, and "Hold Me, Thrill Me, Kiss Me" by Ray Noble) are all stand-out successes, as is M. Ward any time he and Deschanel blend their vocals — they bring out the best in each other. The theme of Volume 3 seems to be that of lost love, but it's a sentimental, sepia-toned lost love that ranges from empowered ("Never Wanted your Love") to thoughtful ("Turn to White"), to the love of a lost place ("London"). At its worst, Volume 3 is an overly-sweet grab-bag of been there, done that influences (Buddy Holly, Dusty Springfield, and The Beach Boys were just a few that sprang to mind), and a few real clunkers ("Somebody Sweet to Talk To" and "Something's Haunting You") can feel like too much of a good thing, or just trying too hard.
Those who have never enjoyed She & Him's twee, strummy sound won't find much new on Volume 3, but fans of She & Him's other albums or those looking for lighter warm-weather listening will find a lot to love.
She & Him's Volume 3 is released May 7th.
Tour dates:
June 13: Nashville, TN Ryman Auditorium +
June 15: Grand Prairie, TX Verizon Theater at Grand Prairie +
June 16: Austin, TX ACL Live at the Moody Theatre +
June 18: Phoenix, AZ Comerica Theater +
June 19: Las Vegas, NV The Cosmopolitan of Las Vegas &
June 21: San Diego, CA SDSU Open Air Theatre &
June 22: Berkeley, CA Greek Theatre * &
June 23: Los Angeles, CA Hollywood Bowl *
June 25: Salt Lake City, UT Red Butte Gardens &
June 27: Council Bluffs, IA Harrah's Stir Cove &
June 28: Kansas City, MO Kanrocksas Music Festival
June 29: Chicago, IL Aragon Ballroom #
July 1: Ann Arbor, MI Hill Auditorium #
July 3: Montreal, QUE Montreal Jazz Festival #
July 4: Toronto, ON Toronto Urban Roots Festival #
July 5: Ottawa, ON Ottawa Blues Fest
July 6: New York, NY SummerStage, Central Park #
July 9: Philadelphia, PA Mann Center for Performing Arts #
July 10: Boston, MA Bank of America Pavilion #
July 11: Vienna, VA Filene Center at Wolf Trap #
+ with Secret Sisters
* with Emmylou Harris & Rodney Crowell
# with Camera Obscura
& with Tilly and the Wall
Photo Credit: Merge Records