Sin City: A Dame to Kill For is a brutal, bloody, and mostly fun repeat of the first one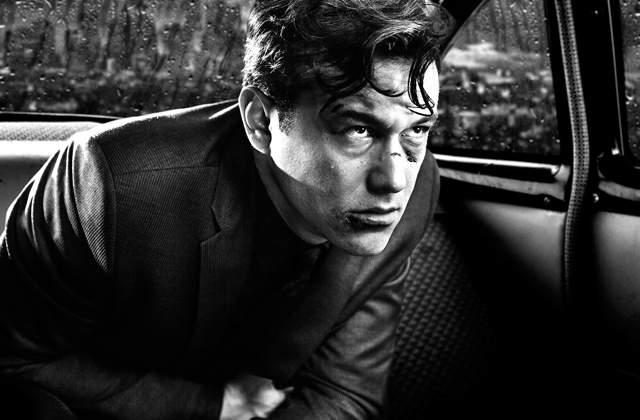 'Sin City: A Dame to Kill For' is basically 'Sin City' again, so you're likely to like it if you liked that one, and hate it if you didn't.
Nine years is a long time in between a movie and a sequel. Of course, it's not the longest; a quick glace at Wikipedia reveals ten years for The X-Files movie, another niche film, sixteen years for the Dirty Dancing sequel, and a whopping sixty-three years for a sequel to Bambi. Although that's a different sort of movie altogether. The first Sin City movie came out in 2005 from director Robert Rodriguez, sharing the directing credit (a bit controversially at the time) with Frank Miller, who had created the graphic novel the movie is based on.
Later, Frank Miller went to direct The Spirit, another graphic novel adaptation, but it was a critical and commercial failure. Now the two have teamed up again for a sequel/prequel to Sin City. But the world isn't the same as it was nearly ten years ago, not just in terms of technology, but also art and culture. Sin City blew me away when it came out; it was brutal, stylized, and jumped straight off the comics page. People had never seen such an accurate version of comic books, nor did they expect the crazy, violent world of Frank Miller. I wasn't really familiar at the time, and have since read some of it; I like the movie more. But is the sequel still fun or is it drag?
Sin City: A Dame to Kill tells several stories, two chronologically before the first movie and two taking place afterwards. Mickey Rourke returns as craggle face super-strong macho man Marv with a short story of justified revenge (in the context of the world), a decent starting off point. Then there are a few back and forth ones, but the other prequel is about Dwight, now played by Josh Brolin (originally by Clive Owen) and his femme fatale ex-girlfriend Ava Lord (Eva Green). Ava comes to him with a dangerous request, and Dwight can't help but be drawn into a potentially fatal adventure where everyone's an antihero or just a villain. This storyline is decent enough, although the storyline seems kind of cliched.
The first of the other two stories stars Joseph Gordon-Levitt as a young and arrogant gambler named Johnny, now back in Sin City to settle scores, make money, and insult the wrong people. Violence ensues. The final storyline is the direct sequel from the first movie, with stripper Nancy Callahan (Jessica Alba) emotionally broken from the death of her caretaker/love Hartigan (Bruce Willis) who died in the first movie, although he makes a few appearances here as a ghost or vision or hallucination. It's not clear.
Surprisingly, Jessica Alba does a legitimately good acting job here.
Of course, in this sort of movie nobody's a good guy, per se, but there are clear bad ones. Sometimes the violence is visceral and exciting; other times it's dull and gratuitous. I didn't feel the same thrill as the first movie, although I enjoyed myself overall. Seeing the sequel, I can see more problematic elements with Frank Miller's work I didn't notice before, like the glamorization of bloody revenge and the roles of women. All ladies with any real lines here are prostitutes with weapons, background objects, motivating forces, or beguiling sirens. Not the most depth, although I found that Eva Green brought a very fun, campy vibe to her performance. Josh Brolin is fine, fitting in well with the noir aesthetic, and Mickey Rourke is decent enough, but not as interesting as in the first movie. Joseph Gordon-Levitt is just plain excellent, showing off depth and intrigue by virtue of his acting with a fairly thinly written character. And most surprisingly, Jessica Alba does a legitimately good acting job here.
I really felt she pulled out an emotional role here, and I also thought she did well in the first movie, so maybe there's something to that. She was dull in Machete Kills, but I've always been a fan of her very early work in the TV show, James Cameron's Dark Angel. Maybe niche is the best place for her, or maybe she needs a very strong-willed director like Robert Rodriguez or James Cameron to bring out her best work.
As for the rest, Jamie Chung replaces Devon Aoki from the first movie as the vaguely fetishistic ninja prostitute Miho, but she brings a different sort of energy. Devon Aoki was flatter and less emotional, but Jamie Chung doesn't seem as hardcore. Dennis Haysbert replaces the late Michael Clarke Duncan who played Manute, the imposing bodyguard and enforcer in the first movie, and is also the only black character in the film. He's fine, but there's not much to the character other than punching. That's most of this movie, punching, blood, and occasional nudity.
The dialogue is noir and fun at times, cliched and tiresome at others. Overall I found the movie pretty fun, but it probably could've been cut a bit shorter. I'm also not sure that having this sort of ultra-faithful adaptation is quite as interesting anymore. After the adaptation failures of such movies as Watchmen, I've become more on the side of adaptation not needing to hew closely to the exact way the source material looks, but merely the spirit and story. I like this sequel/prequel, but part of that is that it was fun to revisit this stylized world from a decade ago. I made it a point to buy the DVD of the original but this one? I doubt it. That said, I'm glad I saw because it's still fun, despite the problems. It's not as good as the first one by any stretch, but it's basically a copy of the first movie, with all that entails. So you know, it's decent.
Photo Credit: Weinstein Co.