Supernatural's season 8 premiere gets back to the characters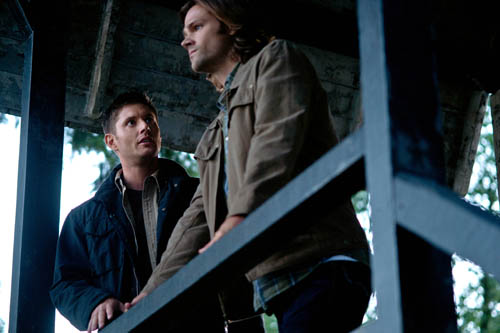 Jeremy Carver gets it, he really get it … so far. He knows that 'Supernatural' is about the characters, Sam and Dean as well as the secondary characters. And as the new show runner, he played that up in the season 8 premiere.
Supernatural's season 8 started off on the right foot, thanks to a strong episode written by the new showrunner, Jeremy Carver. I went into the premiere with no expectations for awesomeness, just hoping that a great set-up would occur. I never dreamed I'd get a powerful episode and the promise for a great season; so far, so good, Mr. Carver.
The best thing Carver did was to focus on the characters. I didn't realize how much I'd missed them until I saw this episode and realized that I had been missing them far longer than just one summer. Carver's gone back to the heart of this show and it feels amazing. Since a whole year had gone by, he seized the perfect opportunity to showcase how both Dean and Sam had changed in that year, based on what had happened to them. We have a changed Sam. A year later, a normal life, no hunting and a love interest, and he's not the same Sam we left at the end of season 7. He's lighter, grounded and has a real sense of clarity about him.
I never dreamed I'd get a powerful episode and the promise for a great season; so far, so good, Mr. Carver.
Dean remains his damaged self, but with a new hint of something stronger. Season 7's Dean could have broken at any time. This Dean, after a year of war in purgatory, seems better off for it, if that's possible. He's stayed true to himself, though, in the way he's hard on Sam, to the point of being hypocritical. When Sam was in a Hell-box with Lucifer, Dean made a happy life with Lisa. Why is it not OK for Sam to have a love life when he thought Dean was dead? If the positions were switched, Dean implied that he would have looked for Sam,  even though that's not what they agreed upon. Liz isn't sure this piece of the premiere is ringing true for her. She thinks that "Sam would've lied and said he looked for Dean, even if he didn't, because he'd know how it would sound to Dean."
Wow, I love what they've done with Kevin. He's still Kevin, but less naive, using his smarts to outsmart the King of Hell — now that's some forward progress. An likes "the fresh addition of Kevin" and noted that the title of this episode, "We Need to Talk About Kevin," is also a novel and a film "about a mother's increasingly out of control serial killer child. Is that foreshadowing? And for which character?"
Keith was thrilled "to see Crowley appear so early in the season, because that's a good indication that we'll be seeing more of him." And we can all agree that more Crowley is a fine, fine thing. He also liked Kevin one-upping Crowley; Crowley standing in the field with goats, realizing he was duped by the new prophet, was just a hint that we'll be seeing Crowley seeking revenge, more so than just snapping Kevin's girlfriend's neck.
We can all agree that more Crowley is a fine, fine thing.
Liz mentioned that Carver shouldn't cater to fandom, but in the premiere, he found the balance between being true to the characters and tossing a few nuggets to the fans. We've got the Impala back (and Dean's comments about it smelling like dog), Sam's back on his laptop, researching, just like the old days (which is such a good move — we know Sam's more naive than Dean and always will be, but he is smart). I think adding Benny, another potentially strong secondary character, is also for the fans. Carver knows how we love the ever-waning sidekicks of the Supernatural universe; from Ash, Jo and Ellen to Bobby, Chuck and Castiel — why wouldn't he add a vibrant new pal to the fold? An thinks that Benny will "clearly get out of control, despite Dean's best intentions," but I'm OK with that. Sam and Dean have aligned themselves with the likes of Ruby and Meg, so I'm all for another shady sidekick.
Carver hit every note in his first episode as Supernatural's new showrunner. Dare I say I'm giddy to discover what the rest of the season has in store?
Photo Credit: CW