SyFy Upfronts 2013 – Being Human cast audio interviews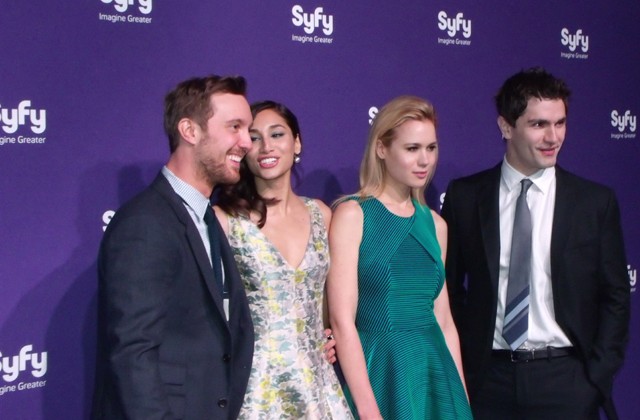 Will season 4 serve as being Human's last season? Will Sally eventually get her door? Will Nora and Josh move on? What happens to Aidan? On the SyFy Upfront's purple carpet, cast members discuss season four hopes.
I loved Being Human's first season. All throughout season one, I hoped the writers would resurrect Sally in human form so that she, Aidan and Josh could live together in a supernatural fun shack, with Sally seeking a more positive relationship to offset her murderous one, while Aidan encounters a lover he DOESN'T kill, and Josh stops wallowing in werewolf misery. Now, as we're on the verge of season four, I STILL just want to watch them hang out, have fun and enjoy each other. Can't Sally's most strenuous problem surround what to wear on the first date and not her Reaper self or her zombie self?
Could season four serve as the final season with Sally getting a door, Aidan moving on and Nora/Josh getting a life?
But, this is Being Human. It's more a tragi-comedy than a comedy drama. When do things go well or happily? Aidan's initial idea surrounded Josh and Aidan accepting their supernatural lives without losing their humanity. However, accepting human life means eventually moving on. After college, do you live forever with your two wacky roommates? No. So, if Josh and Nora accept their humanity despite their werewolf lives, WHERE do the non-human members move onto? What does moving on mean for vampire Aidan and ghost Sally? Although the season four renewal excited the entire cast, they hinted this might be the final season. If season four is the last season, will Sally get her door? Will Aidan kill himself? Will Nora's blood lust return? Or will we get the happy endings we all wanted for our favorite characters?
Sam W. detailed a few ideas he pitched to the writer's room. If this is the final season — which he greatly suspects — he believes season four's theme will surround "moving on" (with a more permanent solution for Aidan: death). While Meaghan wants Sally to continue her relationship with the witch, if season four is the final season, she wants Sally to find her door. After I asked my last question (what do you want to happen to Sally), I realized the question's utter simplicity. At this point, they can re-resurrect Sally again (which I doubt), they can dissipate Sally fully or they can finally help her find her door. There aren't too many options with that character. And, clearly, they'll lean towards the latter. Kristen's the only one of the three actors who had a positive outlook for her character: a honeymoon and lots of sex. Then again, unlike Sam W. and Meaghan, she's the only one playing a living character of the three.
Every now and again I forget actors are human. But, the Being Human cast reminded me otherwise. Each of the actors came across as accessible and open. I loved Sam H.'s outgoing personality, the 'Who's on First' chemistry Sam W. shared with Meaghan and Kristen's enjoyment in her character. Sam H., rocking what I'd call preppy formal wear (navy sports coat, checked shirt and khaki pants), walked down the purple carpet greeting and joking with writers/bloggers he recognized. In contrast, Sam Witwer took a good five minutes to seriously detail his hopes for the fourth season, re-earning my respect. It's a minor detail, but when someone shakes your hand while seriously providing tangible answers, you can't NOT respect that person. I already acknowledged his acting talents, but his utter professionalism re-impressed me. Meaghan equally struck me with her detailed geek knowledge of Sally. Whenever I talk to science fiction actors, I remember Bill Shatner's SNL skit telling overeager fans to get a life. However, Meaghan is clearly a fan of her character who wouldn't pull a Shatner. The geek in me squealed as she casually dropped details about Sally in the past three seasons including her reaper self.
Yes, ladies, Sam Witwer is indecently handsome. The cast is as cool as their characters.
Yes, ladies, Sam Witwer is indecently handsome and naturally vampire pale while Sam H. rocks adorable baby brown eyes. And, yes, gentlemen, both Meaghan Rath and Kristen are naturally attractive actresses. While Meaghan strutted the purple carpet in utterly un-Sally wear with silver platform heels, sleek Veronica Lake-esque hair and a flippy retro circle skirt with classic bodice; Kristen rocked a similar aesthetic with silver pumps and a striped retro circle dress with v-shaped bodice. And, yes, the cast is as cool as their characters.
I'm looking forward to Being Human's fourth season. How about you?
Photo Credit: An Nicholson