The Bridge – It's not heroin, but I might be hooked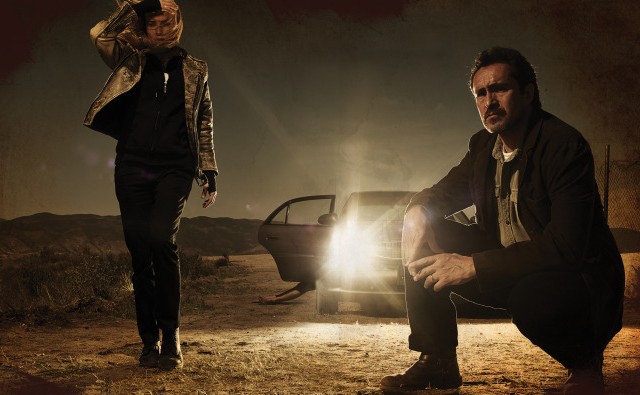 The edgy, basic-cable network FX has stacked up quite a batting average in recent years with hits like 'Louie', 'Justified', 'American Horror Story', and 'It's Always Sunny in Philadelphia'. And it looks like the network's Wednesday night drama, 'The Bridge', is shaping up to be another home run.
This week's installment, "All About Eva," was number 12 of 13. In terms of action, it paled in comparison to the previous episode, but went a long way towards developing and justifying the peculiar relationship between Cross and Ruiz. The two share and are united by the pain of having prematurely lost a close relative, and because of this, Sonya and Marco seem to have evolved into ad hoc surrogate siblings. I hope the writers don't plan to have them hook-up eventually, because now it would just be weird.
We're still not sure where they're going with the side-story of Charlotte Millwright, played by Annabeth Gish, (Bag of Bones, Mystic Pizza). For an unskilled and recently widowed trophy-wife who's past-her-prime, Charlotte is more than coping with the discovery of a secret transnational tunnel that connects her late husband and the back of her newly inherited land to ruthless Mexican gangsters. She's come a long way; though, odds are, this fish-out-of-water is in over her head.
This subplot has had little connection with the main story so far, but the twisting details of Charlotte's misadventures have yielded some of the shows most riveting developments. Case in point: thanks to the Millwright storyline, the first stressful minutes of episode 11 showcased a few bloody dead bodies, one startling showdown, a point-blank murder, and a great goddamned brick of what appeared to be heroin. That's enough to get the old blood pressure cooking. I think we're all on the edge-of-our-seat anxious to see how Charlotte's story will unfold and tie into the rest of the show.
Finally, it seems as if we have some answers to explain wildcard, Steven Linder (Thomas M. Wright). From the very beginning, the show clearly set him up as a bad guy, mysteriously hinting at his possibly fatal connection to all the disappearing Juarez girls. This week's episode showed that Linder is something of a tragic hero, and a good guy after all. Sorry, but I'm not convinced. That character is unsettling enough to make anyone's skin crawl right off of his or her bones.
That character is unsettling enough to make anyone's skin crawl right off of his or her bones.
Whatever Linder's story, he makes for a wonderfully creepy addition to the show, kind of like a contemporary version of Buffalo Bill, from Silence of the Lambs. I say "kind of" because Wright's character hasn't yet confiscated any skin for a chick suit. Or at least not that we know of. But he does have that crazy Levine voice, and that goes a long way.
I secretly wonder if Wright and Levine have developed some sort of off-set kinship or platonically romantic solidarity over having nearly the same haunted voice that sounds like it can only come from having a mouth and throat full of golf balls and goldfish. If so, do you think they'll let me join their duo? I don't have the scary voice, but I do a mean Jason Voorhees impersonation, (wink, wink).
I think I speak for all the fans when I say bravo, I can't wait to see how this first season ends, and I'm optimistically excited about season two. Give 'em hell boys and girls.
Photo Credit: Frank Ockenfels/FX
This Post Contains Multiple Pages:
1
2