Hardy and Gandolfini make The Drop worth seeing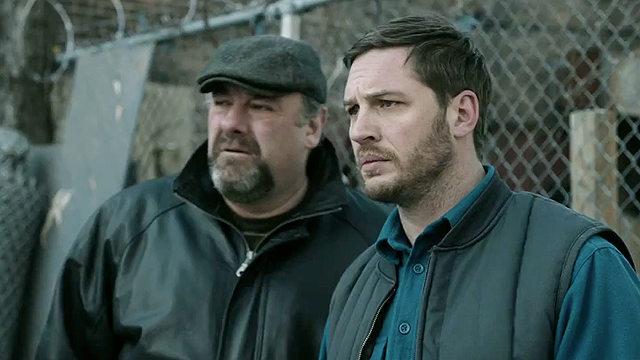 Mystery piles on top of mystery in 'The Drop,' but are the performances of Tom Hardy and James Gandolfini good enough to make the movie worth seeing?
I've not read a book by Dennis Lehane, but I have seen several of the movies based on his books (of which he is usually the credited screenwriter). Some of those films I have enjoyed and some I have not, mainly because they all seem to have a sort of commonality to them – cold, grey, extremely bleak with nary a character you can actually root for (case in point: Mystic River). Gone Baby Gone and Shutter Island were more successful, in my book, perhaps because the directors made the material interesting (and Shutter Island certainly divided audiences with its extremely ambiguous conclusion).
The latest Lehane novel to make it to the big screen is Animal Rescue, which now goes by the title The Drop. The Drop is another cold, grey, bleak story about Brooklyn. Specifically Brooklyn's neighborhood bars and the organized crime element that uses those bars as nightly drops for all of the money collected during the day. One such bar is Cousin Marv's, run by Marv (James Gandolfini) and his cousin Bob Saginowski (Tom Hardy), but owned by the Chechen mob.
Marv's is robbed one night, and Bob nervously gives the police a vital clue as to who one of the suspects may be. The money is eventually returned, and the Chechens tell Marv his bar will be the drop on Super Bowl Sunday. Meanwhile, Bob finds an abused dog in a trash can, and with the help of the owner of said trash can (Noomi Rapace), raises the dog as his own … until a shady character (Matthias Schoenaerts) shows up claiming to be the dog's real owner and makes veiled threats to Bob if he doesn't get the dog back (and even worse threats as to what he'll do to the dog when he does). If the Chechens and the psycho dog owner weren't enough, Bob also has to deal with a very nosy detective snooping around the bar and his private life.
The Drop is one big puzzle.
The Drop is one big puzzle where all of the seemingly disparate pieces will connect together at some point to paint a bigger picture and reveal many truths about the characters. To really sell the deceptions of each character, director Michaël R. Roskam has cast a group of very talented actors. The late James Gandolfini (in his last role) makes Marv seem like an average guy stuck in a shady situation, but he slowly reveals many layers of the character. It's a fine performance, but perhaps a little too Tony Soprano in the end.
Tom Hardy is pretty remarkable, nailing the Brooklynese with great skill.
Tom Hardy, however, is pretty remarkable, nailing the Brooklynese with great skill, never once wavering or slipping into his natural accent, nor acting very stilted while trying to maintain the foreign accent (like Richard Armitage in Into the Storm). He makes Bob seem like a very simple (or simple-minded at times) person, naïve on the outside, just a working class guy who gives away free drinks to the locals and has a big enough heart to rescue a dog from a trash can. There is more to Bob than meets the eye, but Hardy keeps all of Bob's secrets intact until he's forced to reveal them. Schoenaerts, who worked with Roskam on Rust and Bone, also pulls off an American accent without a hitch but his Eric Deeds is not someone you'd want to run into in a dark alley … or a well-lit one for that matter. Deeds always has an edge and if you get too close to him, you will get cut. The only main cast member who gets short shrift is Rapace as Nadia (employing a non-American accent), the woman who only seems to show up when she needs to either take care of the dog or be put in danger because of her own secrets.
The film's poster unfortunately screams that the film has a twist, and in fact it has quite a few. One you may see coming after the first robbery, while another was quite a surprise. Roskam keeps things moving pretty well as the mysteries pile up on each other, but the developing romantic feelings between Bob and Nadia tend to slow the story down a bit. Luckily, and I have to put this out there for the animal lovers because it's very hard to focus on the characters when you're more worried about the dog's survival, the dog does not get harmed in any way after his rescue from the garbage.
The film's poster unfortunately screams that the film has a twist.
The Drop wasn't as good as Gone Baby Gone, but was much better than Mystic River. The story may be a bit convoluted but the performances are certainly worth the price of admission, especially Hardy's. Seeing Gandolfini on screen one more time (he died in June 2013) may also bring in the curious viewer, but it's not a film that you can just casually stroll into and sit back and enjoy. Thankfully, the film also is very restrained as far as violence goes with only one scene with an execution by gun (in darkness) and any other bodily harm happening off-screen. If you enjoy crime dramas with a mystery woven in highlighted by some terrific performances, then you should enjoy The Drop.
Photo Credit: Fox Searchlight