The Judge Blu-ray combo pack is absolutely worth seeking out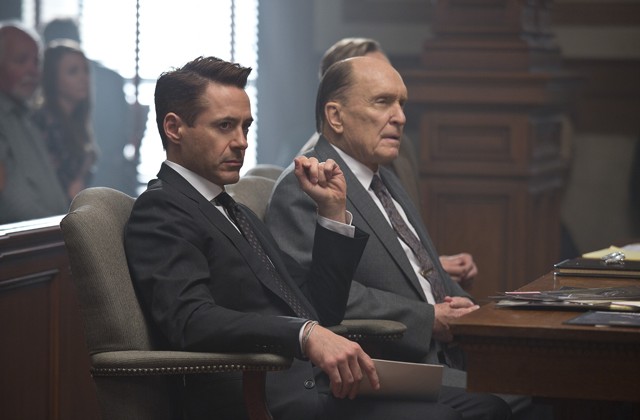 Warner Bros. does justice to 'The Judge' via the Blu-ray release. And if you've been waiting to see it in the comfort of your home, you'll be rewarded with several treats.
Really, there's no going wrong in sitting back and taking in The Judge via Blu-ray.
Well … there is, actually. You could watch it without wearing your glasses, vainly bucking the sad fact your sight is waning. But then you'd be doing yourself a disservice. If you wear glasses to, you know, see? Make sure you wear them. Don't give in to the laziness of "I can see just fine. I don't need my glasses." Because viewing this picture is a treat in Blu-ray — you will cut off your nose to spite your face if you do otherwise. The transfer is crystal clear. The colors jump out at you and the razor sharp images draw the viewer into each scene. And that's a good thing … and definitely during the first 30 or so minutes of the film's rather formulaic set-up.
… at the start, I began to wonder if my anticipation [of the film] was set a little too high.
Because I wasn't the least bit on board with the first part of the film. Thankfully, there were those visuals to keep me focused. Before acquiring the Blu-ray, I hadn't yet seen The Judge; I missed it during its original theatrical release. Receiving a copy via Warner Bros. Home Entertainment was a much-looked-forward-to treat. (Thanks, Warner Bros.!) But at the start, I began to wonder if my anticipation was set a little too high. An ensemble cast that includes Downey Jr., Duvall, D'Onofrio, Shepard, Thornton, et al has the potential to do that, you know. I wondered if I was being led down a path to an inevitable crash and burn by story's end. For me, it took some doing to get me comfortable with what I was watching because it dragged with the necessary groundwork that needed to be laid in order to get to the meat and potatoes of the film.
In the end, the drudgery lifted and I was rewarded with some terrific characterizations (Duvall, Shepard), some empathetic interactions (Duvall/Downey Jr., Downey Jr./D'Onofrio), a great soundtrack, some smiles and obligatory tears. (Note: Robert Duvall garnered a well-deserved supporting actor nomination for his role as the titular, crotchety patriarch.)
Oh … and that formulaic set-up I was worried about, where it was going to lead and how it would play out? It was wasted effort. And it was additionally waylaid with a minor surprise by one of the characters, completely erasing the consternation and dread. (If you've seen the film, guess what that surprise moment was and post it in the comment section.) Plus, the final few musical tracks did wonders for my attitude about the film and gelled everything together for me nicely. (And especially so with Willie Nelson's take on Coldplay's "The Scientist" which worked near perfectly during the credits.)
… and that formulaic set-up I was worried about, where it was going to lead and how it would play out? It was wasted effort.
See? What I stated at the start was true: In the end there's no going wrong with The Judge. The next stop? For me it's the film's score and soundtrack …
The special features on the disc include commentary by director David Dobkin, deleted scenes, a look into the background of the characters with the main cast ("Inside The Judge") and a refreshing departure from the usual blooper reels, "Getting Deep With Dax Shepard" which contains some nifty moments of Shepard "interviewing" several of his fellow actors to comedic effect.
Technical features for the Blu-ray include 1080p High Definition 16×9 2.4:1 visuals, DTS-HD Master Audio, Dolby Digital sound and languages and subtitles in French and Spanish plus Brazilian Portuguese on the Blu-ray only). The combo pack also includes a standard DVD plus a digital version of the film in Digital HD with UltraViolet on specially marked Blu-ray discs.
The Judge Blu-ray disc combo pack was generously provided by Warner Bros. Home Entertainment for this review.
Photo Credit: Warner Bros.