The November Man tries to be a sleek, sexy James Bond thriller but comes up a little short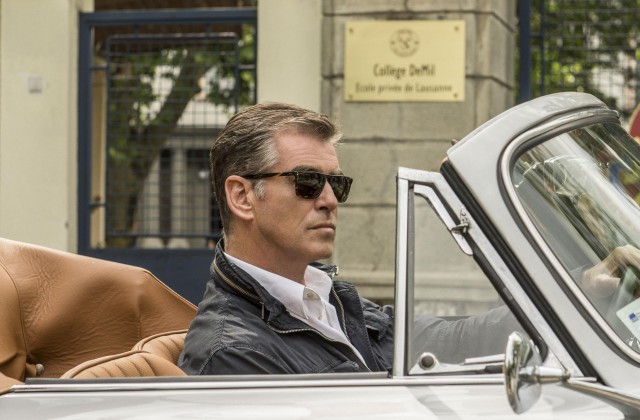 When former James Bond Pierce Brosnan and former Bond girl Olga Kurylenko return to the world of foreign espionage in 'The November Man,' is it a hit or a miss with spy thriller aficionados?
"Peter Devereaux, you know what we used to call you? The November Man 'cause after you passed through, nothing lived."
That is hands down one of the most badass quotes used in a movie trailer I've seen in a while. However, I don't think the trailer for Relativity Media's The November Man does it justice. Based loosely upon the novel There Are No Spies by Bill Granger, the film had an interesting plot in that Peter Devereaux (Pierce Brosnan) is an ex-CIA operative forced out of retirement to embark upon one final personal mission that finds him pitted against high-ranking CIA officials, the Russian president-elect Arkady Federov (Lazar Ristovski) and his former protégé David Mason (Luke Bracey), who is like the hot-headed, impetuous son Devereaux never had. Devereaux's mission is to find and protect a former refugee who may hold the secrets to the Russian president-elect's political undoing and the unraveling of a decades-old conspiracy.
While this film tries really, really hard to be a smart, sleek and sexy spy thriller in the vein of James Bond, it comes up a little short of the prize. 
Of course I knew Brosnan had been James Bond in fan favorites GoldenEye, Die Another Day, Tomorrow Never Dies and The World Is Not Enough, but I didn't realize the film's leading lady Alice (Olga Kurylenko) had been a former Bond girl starring opposite Daniel Craig in Quantum of Solace. While this film tries really, really hard to be a smart, sleek and sexy spy thriller in the vein of James Bond, it comes up a little short of the prize. Like any other movie in this genre, there are a plethora of swerves along the way – some of them you will see coming a mile away because they're that clichéd, while others may take you by surprise. If you go into this blindly and aren't bothered by the foreign names and accents that are sometimes difficult to follow, the confusing and at times unnecessary plot twists, the sometimes uncomfortable scenarios and the fact that this far removed from the Cold War I don't think anybody really cares about Russian politics anymore, then you should be fine.
The best scenes are the ones in which Devereaux plays cat-and-mouse games with Mason, who apparently still has a lot to learn from his former instructor. They banter well together, particularly in the chase scene in which they converse on their cell phones. I enjoyed seeing Brosnan toy with him while trying to teach him valuable lessons about what it means to be involved in the world of espionage, which is apparently something you can't ever escape. It seems they have a great deal of unspoken respect for one another, even as they're busily trying to outwit and outlast each other at every twist and turn.
Women are not treated well in this film.
However, there are several things about this film that made me cringe. While I know that war crimes and sex trafficking go on in the world at large, they're topics that make me squirm in my seat. Women are not treated well in this film. Whether it's the CIA agent being told she's just a pair of tits to the real men in charge, the strippers in the gratuitous strip club scene or the Chechen refugees who were raped and held in captivity by the men who wielded all the political power in the Soviet Union, women are treated as objects of pleasure for vile, dirty men and nothing more. The one notable exception is Amila Terzimehic, who portrays the deadly Russian assassin Alexa. I find it refreshing any time a woman is portrayed as being strong, even if she could kill you about a million different ways in your sleep.
I've got a confession to make aside from the fact that I'm not really an action/spy thriller aficionado. I'm also a horrible person to watch a film with when I know an actor or actress in it but I'm having trouble placing where I've seen him or her before. In the case of The November Man, the actor in question was Bill Smitrovich, who portrays Devereaux's friend/mentor and high-ranking CIA official Hanley. He looked and sounded so familiar to me, but I couldn't fathom where I'd seen him, so I did what any self-respecting freelance film journalist does and I IMDb'd him. Of course he has a long and varied resume full of impressive movies and television series, but I know him best as Corky's father on '80s favorite Life Goes On, and I'm not ashamed to admit that! I wasn't at all familiar with newcomer Luke Bracey, but he appears to be quite the Hollywood up-and-comer, with four titles currently in post-production on IMDb and the lead role in the upcoming Point Break remake, which comes out next year.
Sorry Daniel Craig, but nobody does it better than Pierce Brosnan.
Sorry Daniel Craig, but nobody does it better than Pierce Brosnan. It's that sexy accent and boyish smirk. Even if it wasn't my favorite film I've reviewed this year and even if it wasn't the best film in its genre, it was good to see him in a spy vs. spy role again, speeding dizzily down narrow foreign streets with the beautiful girl he's protecting in tow – he clearly shines in that capacity. I'm not saying you should remember him fondly for what he was because I think he's still got it in abundance — Brosnan is as handsome and charming a spy as ever. If you can get past all the clichés and plot holes, The November Man can be a fast-paced, adrenaline-filled ride if you're looking for that sort of thing. And I hear the idea of a sequel is already being tossed around. Maybe they'll give Brosnan a better script to work with next time if that ever comes to fruition.
Photo Credit: Relativity Media