From WTF to TESD: My top comedy podcasts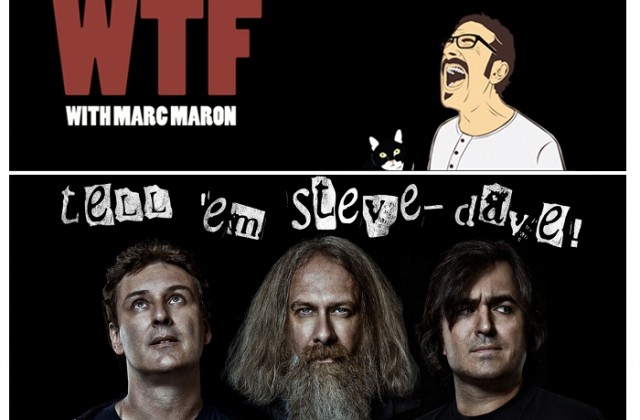 The podcast medium is tailored for comedians. I listen to a variety of comedy podcasts, but this is a list of my favorites.
I'm always baffled by the number of people who don't listen to podcasts. With the ubiquity of iPods and smartphones, it's never been easier to just download free entertainment and have it constantly with you. History, music, sports — there are thousands of podcasts about subjects I don't give a shit about. Me? I pretty  much stick with the comedy.
My iTunes is filled with podcasts but there are only a handful that make it onto my iPhone in weekly rotation. This list isn't a ranking; I love all of my comedy children. Some are roundtable discussions, some are interview-based, and one is even a quasi-gameshow. The one thing they have in common though is that they consistently entertain me, in some cases for years.
Now, in no particular order, here are my top comedy podcasts:
Smodcast (Kevin Smith, Scott Mosier)
Ricky Gervais's comedy podcast was my first foray into podcasts, but Smodcast was the first one that I subscribed to on iTunes. I came in a few months into its run and quickly caught up from the beginning. It's evolved a lot over its nearly six years: Early episodes feature Smith spinning elaborate yarns with Mosier mainly just listening and providing occasional feedback. Mosier quickly came into his own, however, and now serves as a robust co-host, bringing his own stories and jokes to the table. If you're just jumping into Smodcast, or introducing it to a friend, it's better to start with an early one (the Hellen Keller episode is a classic), to get your comedy bearings. If you start with a more recent episode, you may just walk away confused as to why you spent thirty minutes listening to Kevin Smith describe the plot of whatever movie he had just watched before taping. If you're a fan of Smith's movies, you'll also get a bunch of behind-the-scenes info on his process, choices, and what actors he likes and who he'll probably never work with again.
Nerdist (Chris Hardwick, Matt Mira, Jonah Ray)
I somehow learned about the Nerdist podcast via Twitter, right after it started. I'm still not sure how this happened, as I had no idea who Chris Hardwick was at the time, but I'm glad it did. Early episodes feature Hardwick's comedian friends, including Thomas Lennon, Mike Birbiglia and Drew Carey. The interviews focus a lot on the process of comedy, so if you're a stand-up nerd, you'll love it. Interview episodes are now interspersed with "Hostful" episodes, which feature Hardwick and his co-hosts, Matt Mira and Jonah Ray, sitting around and shooting the shit sans guest. These episodes are mainly about what's going on in their lives, but are just as fun and interesting as the interview episodes. As the podcast's popularity has grown, so has the calibre of guests — Tom Hanks and Willem Dafoe are just a few of the big names that have appeared in recent months. However, the influx of more Hollywood guests has provided an unintended, yet hilarious, consequence of people who go on, having no idea what a podcast is, or who any of these guys are. Listening to established actors try to adopt to a new medium is a pretty good time in and of itself.
Doug Loves Movies (Doug Benson)
Comedian Doug Benson hosts this part roundtable discussion, part game show centered on movies. Guests are primarily composed of his comedian friends, with people like Sarah Silverman, Pete Holmes, and Paul F. Tompkins making frequent appearances. While each episode generally features a couple of games, the show is built around The Leonard Maltin Game. In The Leonard Maltin Game, contestants  bid on the number of cast members (from the bottom up) they need in order to guess a film's title. It's a pretty basic premise, but The Leonard Maltin Game manages to entertain week after week by featuring creative categories ("Keeping Up With the Kardashians," for instance, is movies that feature three or more monsters), and either hilariously bad players (despite having made several appearances, Silverman still generally has no idea what's going on), or freakishly good ones (Adam Scott, Jon Hamm and Samm "The Ma'am" Levine are some of the consistently best players). Leonard Maltin himself even shows up now and again to play his namesake game.
*Full disclosure: I was recently kind of on an episode of Doug Loves Movies, but Doug fucked up the recording, so it never ended up airing.
WTF (Marc Maron)
If Oprah were an angry, Jewish male comedian, this is the podcast she would have. Marc Maron has been on the scene for years, and as a result, is friends and/or enemies with basically everybody in comedy. This interview podcast is often funny, but really delves deeply into comedians' processes and often their psyches.
If Maron has known the guest for a while, expect the interview to start off with some variation of, "I really used to think you were a dick; but I like you now."
If Maron has known the guest for a while, expect the interview to start off with some variation of, "I really used to think you were a dick; but I like you now." Plus, his ten minute rambling intros to each interview are really an art unto themselves. WTF is sometimes funny, sometimes sad, but never boring.
Girl on Guy (Aisha Tyler)
The style of Girl on Guy is similar in style to WTF, but with fewer reconciliations. Most people know Aisha Tyler as an actress, or more specifically, as the only black person in the Friends version of New York City. If you're home during the day, you may know her as one of the co-hosts of The Talk. She's also a stand-up and a huge gamer, so she usually ends up touching on most of those topics with her guests. In an episode with your imaginary husband Nathan Fillion, the pair reminisces about hanging out in super-secret L.A. gaming rooms and just playing for hours. Tyler's also a major foodie, so she's more than able to hold her own with guests like Anthony Bourdain (although my favorite part of that particular episode is when she spends a good fifteen minutes trying to convince a very confused Bordain why Rocky Balboa is an excellent movie). The wide range of topics discussed is what sets apart Girl on Guy from some of the other interview-style podcasts hosted by comedians. This is the podcast I've been listening to for the shortest period of time, but I've already come away having learned a few new things.
Tell 'Em Steve Dave (Bryan Johnson, Walter Flanagan, Brian Quinn)
…and Walt wondering why the hell he's on a podcast in the first place, but agreeing to it because he seems to be at least semi-convinced that it's the only thing keeping his friend from killing himself.
TESD holds a special place in my heart, as I've been a listener since day one. The second podcast on the Smodcast Network, the first couple of episodes feature Bryan Johnson and Walt Flanagan, with Brian Quinn only appearing as a silent sound board monitor. Though it's been years since I've listened to those first shows, I remember them as being mainly composed of Bryan wondering what the point of doing anything is, and Walt wondering why the hell he's on a podcast in the first place, but agreeing to it because he seems to be at least semi-convinced that it's the only thing keeping his friend from killing himself. The guys quickly find a rhythm though, and the addition of Quinn to a speaking part brings a new energy to the show. Over the years, listeners have enjoyed trips to the flea market, rants about gizmos and gadgets, feuds, and a host of games created by Walt, including the masterpiece that is "One True Three." Walt and Bryan can also be seen on AMC's Comic Book Men along with frequent TESD 4th chair Ming Chen, while Quinn can be seen on Tru TV's Impractical Jokers. Despite their newfound reality stardom, the heart of TESD has blessedly remained unchanged. Although the show seems on the verge of collapse nearly every week, this seems to be an excellent harbinger of its true staying power.
A special extra shout-out goes to the Tell Em Steve Dave 2012 Christmas Special. This bonus episode is over two hours and exemplifies just how far the show has come. The guys (plus Ming and Sunday Jeff) are firing on all cylinders. Between the Christmas carols and the best game of One True Three that's ever happened, The Christmas pod is well worth the $4.99 minimum cost. While TESD has had many charity fundraisers over the years, the proceeds from this podcast are going to Walt and Mike Zapcic (Comic Book Men), who both suffered extensive damage to their homes during Hurricane Sandy. It's hard to convince anyone to pay for a podcast, but it's impossible to buy this one and be disappointed.
*Full Disclosure: I was recently on an episode of TESD. It probably ruined my life, but the guys are all sweethearts.
This list barely scratches the surface of what's great in comedy podcasts and omits some big ones. What are some of your favorites? Feel free to leave your own list in the comments!
Photo Credit: wtfpod.com, smodcast.com