Valar Morghulis: the latest Game of Thrones beer from Ommegang Brewery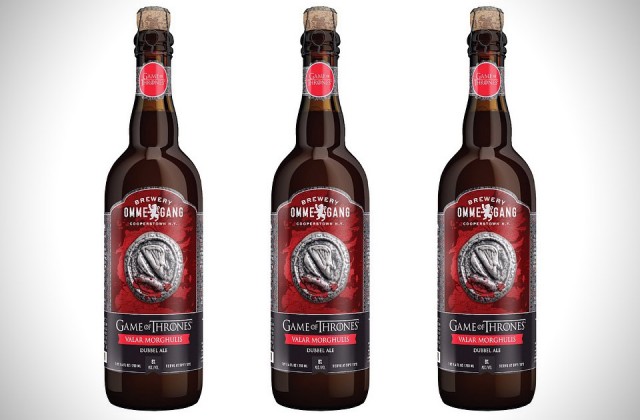 If every man (or woman) is king (or queen) of their castle, they deserve a mighty ale to end their day, as they kick up their feet and survey their conquests. Is 'Game of Thrones'' new brew that drink?
Product tie-ins for television shows and movies are nothing new. From action figures to video games, apparel to novels, audiences are accustomed to searching Amazon – or your favorite brick and mortar stores if that's what you are into – for items related to your favorite show. There has not been, however, a massive influx of branded adult beverages, even though there is a lot of opportunity for natural connections. One of the best examples of that – other than the inevitable Scandal-branded wine – is Game of Thrones and beer.
Valar Morghulis represents the fourth collaboration between HBO and Ommegang Brewery. Their previous brews have included a blonde ale (Iron Throne), a stout (Take the Black Stout) and a red ale (Fire and Blood, natch). The latest is an Abbey Dubbel, which Ommegang describes as:
Valar Morghulis possesses a deep chestnut brown color with a persistent and creamy tan head. Rich aromas of caramel, toffee, ripe fruits and burnt sugar, with a hint of cloves. The taste is delicately balanced with rich malty sweetness, caramel and just enough bitterness to balance out its malty backbone. A surprisingly dry finish is light on the tongue, which belies the initial aroma.
While I missed out on the opportunity to try the previous products, HBO was kind enough to send us a couple of bottles – and some cool beer goblets – to try. I'm not nearly the craft beer aficionado as a lot of people out there – those that know me make fun of my appreciation for a good organic cider – I did enjoy Valar Morghulis. The maltiness was a little complex for my tastes, but the sweetness, in the form of the fruits and particularly the caramel and toffee tones really completed the flavor.
Maybe Ommegang and HBO are going to revolutionize the television-tie-in industry. Maybe that Scandal wine is right around the corner, followed by a Mad Men gin, Outlander whiskey and Simpson's Duff (Oh, wait …). In the meantime, go find this beer (using Ommegang's cool Beer Finder) – do it soon; it's only a limited run. I promise, your tastebuds will thank you.
For more information, check out Ommegang's blog post.
Photo Credit: Ommegang Brewery