Whiplash is a frenetic, fabulous movie about the line between mentorship and abuse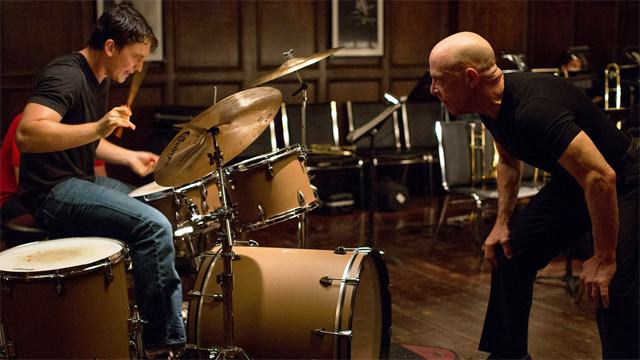 'Whiplash' is a shocking adrenaline rush about jazz and drums – I'm surprised too!
"If music be the food of love, play on."
There is a thin line between a caring teacher who's pushing you as hard as you can go to achieve greatness and a giant jerk on a power trip. Teaching is difficult, and teaching the truly talented is not as easy as it sounds. Many coast on by, letting the students do all the work. But it's thought often that you really need to push and push to achieve greatness; if you aren't struggling, can you truly obtain anything more than mediocrity in a sea of the same?
Whiplash gets its name from the appropriately named jazz piece by Don Ellis, because this movie hurts like you won't be expecting. The film stars Miles Teller as young Andrew Neiman, a first year drumming student at the most prestigious music school in the country. He aches to become a true artist and a true success, so he practices constantly, even listening to the old greats. And then he encounters Terence Fletcher (J. K . Simmons), a conductor with a terrifying teaching style but is still considered one of the best at what he does. Andrew tries hard to impress Fletcher, but it's not so simple. He somehow manages to show enough talent to join Fletcher's band, which performs at real venues, but he's pushed every step of the way by Fletcher. Yelling, screaming, berating, insulting. This kid literally bleeds to impress and succeed.
His personal life is a different level of importance; he is interested in a girl (Melissa Benoist), but is he interested enough? His father (Paul Reiser) wants what's best for him but can he truly understand? Andrew may not think so, but his father was an artist in a past life too. So Andrew keeps trying, and failing, and trying, and failing again. Scene after scene of struggle and triumph, push and pull, as he matches wills against the dominating complex force of Fletcher. Is Fletcher a bad guy? He does bad things, but does he go too far? Or does he merely care too much about perfection?
J. K. Simmons owns the stage and the screen, keeping your eye on him at all times, wondering what he will do next.
So this movie is pretty great, with fantastic images of the hardcore drumwork — Miles Teller does most of it, which is extremely impressive. He's good in general, although at times he's a bit histrionic. I think he has a real interesting spark; an actor who has a natural charisma. But this is J. K. Simmons' show and he is phenomenal. He owns the stage and the screen, keeping your eye on him at all times, wondering what he will do next. The music of course is always excellent, shot in general and mixed beautifully, building as it needs to and keeping your attention riveted to the screen. What I liked about the movie is that although it kept Andrew as the "hero" of sorts, it kept Fletcher in a weird grey zone of "teacher/mentor" combined with "adversary/antagonist" in an interesting way. You begin to wonder if it's worth it, if Andrew should just give up.
That's when it gets you, when you know you're invested. I couldn't help but be drawn in to this world of jazz musicians, which isn't my genre of music by any means, and I'm not buying it anytime soon. That said, the story was classic but interesting. It twists and turns but it goes to where it needs to go. And if you think you're ready for a fifteen minute drum solo for reasons good and bad … you gotta see this movie. At the very least, watch it for the amazing performances, both acting and musically. It'll blow you away.
Photo Credit: Sony Pictures Classics