Wicked, Wicked: The perfect vehicle for curing your insomnia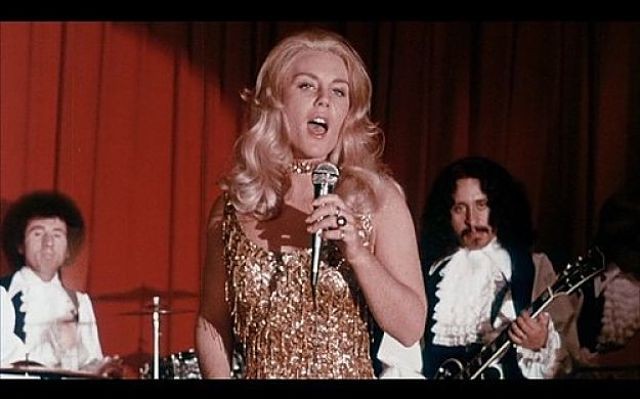 The only thing wicked about this Throwback Thursday offering from 1973 is the title. It does manage to make many of the Z-rated groaners out there seem high-falutin' by comparison, however.
You have what you think is a pretty good gimmick. And a horror/slasher story to showcase it in. So you make a film to exploit the gimmick with the intent of capitalizing on it.
Wouldn't you think the film you make be a reasonably decent one, one with legs to stand on? At least a little bit?
That's not what writer/director/producer Richard L. Bare and executive producer William T. Orr decided to do. They took a budget of $1.5 million, set up camp for 48 days at the Hotel Del Coronado across the bay from San Diego and proceeded to shoot a film with the ploy of "Duo-Vision" (better known as split-screen) and churned out a piece of schlock that's barely watchable. Actually, calling it schlock is giving it more credit than its due; this is 90+ minutes of drivel. (Note: They actually came in under budget on the film. I doubt utilizing the entire amount would have made it any better.)
At a sprawling California hotel, a killer is on the loose targeting comely single blonds. The action starts off promisingly enough with the demise of one guest shortly after checking in. And it's here we have the pinnacle of the film's "Duo-Vision" process. Because nearly everything hereafter goes downhill.
Duo-Vision loses steam quickly. In fact it does the equivalent of a plunge off a 500′ cliff. As the story unfolds (such that it is), the device becomes tedious. It detracts from the story in big, steaming heaps … but that isn't necessarily a bad thing. If not for its contrived clicheness, you just might tune this turkey out all together.
Duo-Vision loses steam quickly. In fact it does the equivalent of a plunge off a 500′ cliff.
It would be an entirely different matter if what was shown in Duo-Vision drew interest, engaged the viewer. But there are so many lackluster, unremarkable scenes on either side of the screen – and at precisely the same moments – the split-screen hype wears thin in short order. You become exhausted trying to keep up with the "nothing going on" constantly going on. Yes … it's that bad.
Additionally, wouldn't you think a film with so many familiar faces would have something redeeming? Edd Byrnes (Kookie of 77 Sunset Strip), David Bailey of the popular-at-the-time Mitchum deodorant commercial, the very familiar Arthur O'Connell (Fantastic Voyage, The Poseidon Adventure) and actor/novelist/co-founder of Second City comedy Roger Bowen (M*A*S*H, All In The Family) are all present in Wicked, Wicked, each and every one of them recognizable to some degree. So it had that going for it … right?
Nope. Casting didn't work either. Try as he might (and it didn't appear he tried in the least) Bare's direction, plain and simple, was barely direction at all. Combine his efforts with a limp script to begin with, a dull hook incapable of sustaining interest, snooze-worthy dialog, film-making lacking fundamentals and enough drollness to cure insomnia and Wicked, Wicked flounders utterly.
The kicker is this, though: I've seen other reviews of the film and I'm convinced those who wrote about it saw a completely different movie than what I saw. Or they were wearing rose colored glasses. Of course, that automatically made me question what I'd seen … and then, almost instantly, I came back to the real world and to common sense. Yes, I'm sometimes delusional … but not so much I don't know what a bad film looks like. And this? This is a bad film.
… wouldn't you think a film with so many familiar faces would have something redeeming?
Still, there are a few items of note. Not enough to make you sit up straight though. Just little asides to induce a chuckle or two.
There's an organist in the film who Bare thought, inexplicably, needed to make multiple appearances for effect. Why? I haven't the slightest idea. But her wide-eyed, comical look is a welcome distraction to the story, if nothing more than to call out the dippy tunes she plays as background fare.
Plus there are a couple cringe-worthy lines of dialog. As example, late in the film after singer Lisa James (Tiffany Bolling) is swamped by reporters after being rescued from the killer, this gem crops up:
"What does it feel like to have your throat cut?" – Reporter
"It hurts …" – Lisa James
And then there's James' singing itself:
"Wicked, wicked that's my ticket … you make me feel so wicked
Let me do what I love to do … make wicked, wicked love to you …"
Yeah. Really.
I'll give the film two positives, however. 1) Randolph Roberts, who plays killer Jason Gant, does manage to convey a strange, child-like naivete on the one hand while doling out his inner knifing-bearing, evil cad on the other. And 2) the disc offers a trailer for the film. And believe me when I say it is infinitely more engaging than the actual product itself.
I wanted something to come out of Wicked, Wicked. Instead, I was left with a viewing void …
Technical information: 16 X 9 letterboxed edition with the original aspect ratio 2.40:1. Stereo sound is evident, but there is no back up information verifying what type of enhancements to the sound were involved. Was there noise reduction? Rerecording? And what kind of stereo sound is involved with the print? I have no clue. Nor is there any information regarding restoration either. The print is rumored to be restored (with some sources stating there was a process encompassing a couple year's worth of effort) and I'm certain it is but I didn't find any concrete evidence to back it up. Viewing the disc certainly doesn't reveal anything indicating such.
I wanted something to come out of Wicked, Wicked. Something camp … something guffaw-worthy … something worth the effort of giving up an hour and a half of my time. Instead, I was left with a viewing void, time spent I will never, ever get back. And that, dear reader, is the truly wicked, wicked thing about this sad vehicle …
Wicked, Wicked was generously offered to CliqueClack for review by the fine folks (who obviously have a wicked, wicked sense of humor) at Warner Bros.
Photo Credit: Warner Bros.