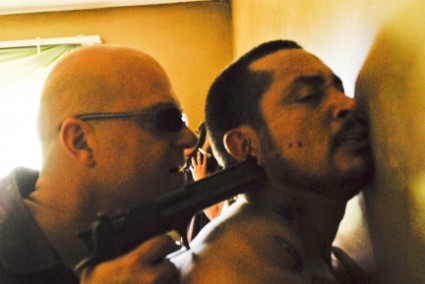 (Season 7, Episode 12 – "Possible Kill Screen")
It's the final two episodes of one of my most beloved shows on television, The Shield. I thought it only fitting that I start out with a live-blog/chat tonight, where we fans can congregate, discuss and weep in our beers about the show's conclusion.
Earlier tonight I live-blogged the episode. You can read the transcript below. Should I run another live-blog for the finale next week? Let me know in the comments.
| | |
| --- | --- |
| 9:59 | For once, an episode I haven't seen ahead of time. In the dark like the rest of you. |
| | |
| --- | --- |
| 10:02 | That preview made me think the idea of running is back on the table. |
| | |
| --- | --- |
| 10:02 | (Not preview, recap) |
| | |
| --- | --- |
| 10:03 | How can Shane's kid look just about as old as Vic's son already? |
| | |
| --- | --- |
| 10:06 | You'd think Shane holding a badge would allow him to go in and take down some scared dealers in another district rather than have to pull this off. |
| | |
| --- | --- |
| 10:08 | God that canon she was holding had no recoil. |
| | |
| --- | --- |
| 10:10 | God that couldn't have been good for her unborn kid. |
| | |
| --- | --- |
| 10:12 | It's good that the storylines have worked out that Vic isn't living with his family anyore, otherwise wouldn't they wonder where he is all day while unemployed? |
| | |
| --- | --- |
| 10:13 | Wow, Dani's back. Didn't see that coming. |
| | |
| --- | --- |
| 10:17 | I knew that Rita storyline wasn't dead yet. Not going to end well there. |
| | |
| --- | --- |
| 10:20 | Glad to see Vic not budging with his deal, making sure he'll be taken care of, along with Ronnie. |
| | |
| --- | --- |
| 10:22 | Looks like Olivia didn't care for Vic's bluff. |
| | |
| --- | --- |
| 10:23 | Uh, Vic — you should be looking for a new line of work now. |
| | |
| --- | --- |
| 10:23 | "Omar does have the best prices in town." |
| | |
| --- | --- |
| 10:24 | Vic with a car seat. Now that's a scene. |
| | |
| --- | --- |
| 10:26 | Something tells me the paperwork is BS. |
| | |
| --- | --- |
| 10:27 | Wow Vic has to do some soul searching right here and now, in front of Ronnie. |
10:28

Will Vic and Ronnie get a deal before midnight?

Yes

No
| | |
| --- | --- |
| 10:30 | Love the short commercial breaks. |
| | |
| --- | --- |
| 10:31 | Oh man, this is good. Shane is in deep shite. |
| | |
| --- | --- |
| 10:32 | He's damn lucky Maura and his son weren't in the car. |
| | |
| --- | --- |
| 10:35 | Wow, arrest Corinne! Another didn't-see-that-coming |
| | |
| --- | --- |
| 10:35 | Right about now Vic must be thinking he needs to get that deal signed NOW. |
| | |
| --- | --- |
| 10:41 | I had a broken collar bone once. That pain looks about right if the brace isn't good. |
| | |
| --- | --- |
| 10:42 | There we go Vic. Takin' the deal. |
| | |
| --- | --- |
| 10:43 | Wonder what Ronnie is going to say about that. Did Olivia mean she can never do anything for Ronnie, or it can wait until next week like Vic said? |
| | |
| --- | --- |
| 10:44 | Sign it Vic! Sign it! |
| | |
| --- | --- |
| 10:45 | God I can hear the cops running down the hallway now. |
| | |
| --- | --- |
| 10:46 | Victor Samuel Mackey — I guess we'll find out a lot of things doing with Vic's past we didn't already know. |
| | |
| --- | --- |
| 10:47 | Vic has so much dirt on him he can't think where to start. |
| | |
| --- | --- |
| 10:48 | That look on Olivia's face is of pure horror. |
10:48

Olivia: "Is that it?"
Vic: "How much memory has that thing got?"
| | |
| --- | --- |
| 10:53 | So does this mean Vic really can't be taken in for anything he's done? |
| | |
| --- | --- |
| 10:54 | Surprised they're not barging in there before he can tell it all. |
| | |
| --- | --- |
| 10:57 | Wow, if Vic even knew who was listening in. I'm still not sure why she didn't get in there and try to nail Vic on something else. |
| | |
| --- | --- |
| 11:01 | Vic really is one sick bastard. The actress playing Olivia nailed the disgusted look to a T. This episode could have been called "The Confessional", because Vic let it all out. And in some ways, I wonder if he feels better for having shared it. But after this is all done, what does Vic really have to live for? |
| | |
| --- | --- |
| 11:02 | Vic's past is only something that can be an embarassment to his entire family, especially his kids. Being around for them is only worse. |
| | |
| --- | --- |
| 11:04 | So, how will it go down next week? So many things could happen. Vic could fail to bring down the cartell, invalidating his deal. He could succeed and ride off into the sunset while Ronnie rots in jail. Or maybe Vic will commit one final crime that takes him down. |
| | |
| --- | --- |
| 11:05 | Next week is the 90 minute finale. Sound off in the comments if you want me to do another liveblog. Wasn't much of a chat because, well, nobody's here. *sniff* I feel so alone. G'night! |
| | |
| --- | --- |
| 11:05 | |
Photo Credit: Prashant Gupta / FX;FX