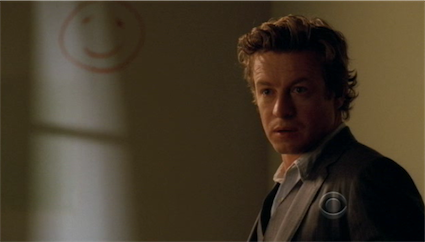 The last time we had a Red John centric episode, it was action-packed. I felt like the team was here, there, everywhere and there was one more layer to the action every moment. Not so with tonight's episode, which was really slow for me until the last 20 minutes or so.
I know that Red John is a series arc, not a season arc of The Mentalist, so I wasn't expecting too much to be revealed, but after all was said and done, I went from thinking "lame cop-out" to "decent reveal." There were a few things about the way the ending played out that worked for me, and made it believable.
I was so frustrated when I thought that Jane was fooled by that sheriff. I kept telling myself, in my infinite attempts to keep an open mind, that Jane's judgment was clouded by his thirst for revenge so he was off his game. I felt so much better when they revealed that Jane and Lisbon didn't really argue, that they knew it was the sheriff and they were setting him up. Whew, much more Mentalist.
So now we know that Red John had an accomplice, Orville Tanner, who got caught and died in prison. Oh, and that his son was a complete whack job (you don't find peaches under apple trees). And we may be just a little closer to having an identity for Red John, though I think Roy Tagliaferro probably isn't his real name. I'm also wondering what we are to make of the blind woman's complete trust in this guy. Are we looking at a Ted Bundy type? It will be fun to learn more about Red John as the series goes on.
Just a few little mentionables:
The mailbox store owner trying to set Cho up with her niece could have been much cuter. I wonder why they didn't use Cho better, because we know they can Cho it up good.
Really? Mace woke up and found a pig's head in his bed — with that dog? Really? Um, look for the guy with the bite out of his leg.
I loved watching Jane peg the twins' parents — he knew the father was lying, knew the mother was drinking, classic Jane.
What do you think? Did The Mentalist's season finale live up to your expectations?
Photo Credit: CBS