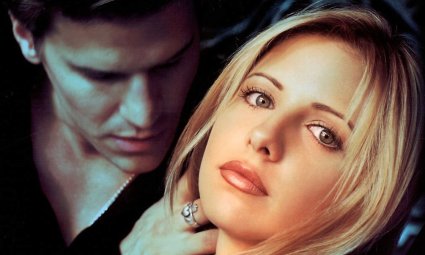 Chances are that if you're perusing the wares at CliqueClack, you've already heard about this latest Buffy kerfuffle somewhere in your internet travels. The Hollywood Reporter started things, running a short piece that suggested the Kuzuis have been talking with Vertigo about a new Buffy movie and … OMG … it might not involve Joss Whedon. The resulting outrage from Buffy fans was not unexpected, with the overwhelming reaction being, "No Joss, no way!" I find myself in the minority on this, because I disagree.
To start, there really is just not enough information. The most amusing bit of the story is that somehow "haven't ruled out Whedon being involved" magically became "a Buffy movie without Joss." Is it such a stretch to think that these talks are in the earliest of stages and once someone starts throwing some actual money around, Whedon might get a call? That really would be the safest path, avoiding what will obviously be a backlash from the fans of the show.
For the sake of argument, though, let's assume that's what this is: a Buffy movie without Joss Whedon. Is that really a deal breaker for you? If you say yes, you're certainly in good company. It just so happens that Keith was already talking to Jane Espenson when this story broke, and she offered this comment:
"I saw the news about this first thing this morning and I was surprised.  I don't think any Buffy project would work without Joss's involvement."
It's not a deal breaker for me. I've been a big fan of most of what Whedon has done (I loathe Serenity, but that's another story), but I don't think he's the only one with the scary rare ability to be able to tell a good Buffy story. There are tons of writers and directors out there, all with their own unique visions. And the Buffy mythology that Whedon has built is strong enough to stand on its own, without him at the helm.
Just for argument's sake, and as one example, take a look at who Vertigo has worked with in the past. How about Sam Raimi? Would you really have no interest at all in Sam Raimi's take on Buffy? Now, I have no idea whether or not Raimi would have any interest at all in being part of a Buffy revival. He is, after all, quite busy with Spidey and the Evil Dead, among other things. But that's just one name.
At the end of the day, we'd all like to see Whedon behind any new Buffy movie, given the choice. But if that isn't possible, I'm more than happy to take my chances with someone else giving it a go. Sure, it might be every bit as bad as that original movie. On the other hand … you just never know. It could be the next great chapter. To just assume that everyone other than Whedon dooms it to failure is as silly as assuming that his involvement automatically makes it a hit.
Photo Credit: 20th TV