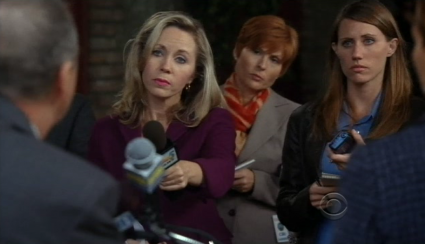 Curse you, CBS! Curse you for moving The Mentalist to a 10:00 time slot this season … don't you people know I turn into a pumpkin much, much earlier than Cinderella's coach? It pains me not to watch this show live this season, and in particular, this episode. Holy moly!
"His Right Red Hand" was loaded with goodies for us. I'm still cursing you, CBS, but hooray for November sweeps and pulling out all the stops.
I was loving The Mentalist this season. It was great in season one, but they have really stepped up their game. I love that Jane had a nemesis within the department and that Lisbon and Jane have become partners in Jane's little schemes. The team really gelled when juxtaposed next to Bosco's team.
Now we've got some changes coming up: no more rival team within the CBI and no more Minelli. What's a new boss going to do for the team, and to Jane?
More importantly, there were some CBI badge shenanigans going on in this episode that I think were giant clues. With a little help from Brett, here's what we came up with: Did Red John show his face at Minelli's press conference? Let's break it down:
The red-haired reporter pictured above could easily be Red John. The scarf is covering his Adam's apple, and hello? Red hair. Really, really sorry in advance to the actress playing this role if I'm wrong, but perhaps consider this a wake-up call and consult a stylist immediately.
Keith contacted CBS for a cast list from this episode, and the actor is uncredited … suspicious? You be the judge.
In HD, that white badge the redheaded reporter is wearing appears to be a CBI badge. If so, it is very Red John-like to flaunt something like that, especially if it belonged to Hicks, which is likely. And, it explains how he got in at the end to poison Rebecca, the assistant.
When Cho was watching Virgil's speech, I think it was a shout-out to us viewers to pay attention to that scene … because if you did, you just might see Red John.
Jane flashing the CBI badge — with his finger over it — was another plant to get us to pay attention to the badges.
I'm anxious to see how all the changes in The Mentalist play out over the rest of the season. Do you think we'll see much of Red John?
Photo Credit: CBS