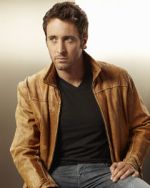 You have to give it up for CBS. Despite being a ginormous corporate entity with an incredible run of luck over the last few television seasons (save for Jericho, but we overlook that), they are willing to give actors a fair chance of succeeding. Even if they've had not one, but two shows on the network that have fallen by the wayside.
Case in point, the hapless Alex O'Loughlin. Despite the failure of fan favorite/critical punching bag Moonlight and the crash and burn of the unknown Three Rivers (aired on Sunday nights, remember?), CBS is giving Alex one more chance to be a star. This time it will be as Detective Steve McGarrett in the reboot of Hawaii Five-O.
Now, O'Loughlin is a fine actor; his portrayal of Det. Kevin Hiatt on The Shield showed the kind of chops he had. Thing is, he may not be the right person for this type of remake. To sum it up in as few words a possible, O'Loughlin is too, um, pretty. That is, too pretty if the remake keeps to the style of the original.
Photo Credit: CBS
This Post Contains Multiple Pages: 1
2