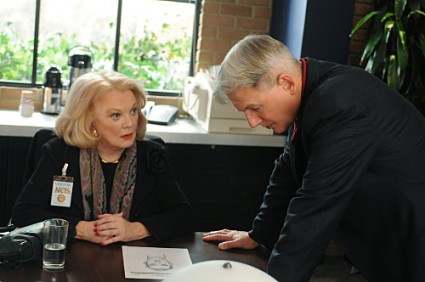 I generally have a pretty easy time putting my thoughts together on the latest episode of NCIS. Even when I take issue with something, or disagree with something, the show is enjoyable enough, the characters rich enough, that the words just flow. But not this time.
In fact, I couldn't even put finger to keypad last night. And it's been a challenge to do so this morning, as well. Why? For the least likely of reasons — I can't rectify my mind with Gibbs' actions last night.
And not in the same way as a few weeks ago, when he and Hart (Rena Sofer) did or didn't kiss at the end of that episode. That was Gibbs the man that let me down. And he did here too by calling Hart in. But worse than that was Gibbs the Marine, the Gunny, the NCIS agent. He left me thinking, "Say it ain't so, Jethro!"
First of all, a word about Hart. I think the blame for my feelings about her lie with the show. Not that I'm necessarily wrong, but she was definitely established earlier this season as being extremely suspicious. She likely is working with Colonel Bell, and will eventually surprise and screw Gibbs. So the fact that he may have been attracted to her is bad enough. But to introduce her to the most sensitive part of his life? And I don't think it's clear that Gibbs did it just to screw Hart back. He arguably chose her because she's 100% credible and by the book, which would make his "mistake" all the more believable. Like, "Shucks … I didn't think anyone would catch me! Oh well."
But none of that excuses his calling her. I actually thought it was really interesting that the mother-in-law the show chose to give us was the one that pained Gibbs the most, and not the comical, hate-hate relationships I'd assume linger following his multiple divorces. That's actually what I expected when I heard that Gibbs' mother-in-law would be making an appearance. Instead, it was Shannon's mom, Joann Fielding (Gena Rowlands), who rotated back into his life. Of course, that wasn't exactly the coincidence that I envisioned, either. Instead, it was her way of taking revenge for her daughter's and grand-daughter's murders.
And Gibbs should have thrown the book at her. I don't remember the exact circumstances we learned of surrounding Shannon's murder, but I believe in the justice that Gibbs dispensed on her behalf. Whether or not it was in his capacity as a Marine, or if it had anything to do with his service in the military, he dispensed a form of military justice. And whether or not you believe in that, I do. But neither Joann, nor her target, fall into that category.
Gibbs' shared pain with Joann doesn't make for a valid pass, and neither do his potential feelings of guilt. Gibbs was welcome to argue extenuating circumstances for her, or try and talk to the prosecutor about leniency, but Joann was guilty of premeditated murder. And the fact that he let her get away with it leaves me feeling extremely disappointed in our Gunny, to say the least.
But let's end things on a positive note. How about Palmer and his lady friend? That she'd be attractive wasn't exactly unexpected, but what I enjoyed was his eagerness in preparation, his giddiness at the prospect of the date, and his subsequent interactions with Gibbs and Ducky. Smells like a French whorehouse in here indeed.
Photo Credit: CBS