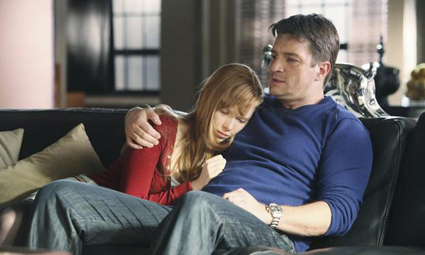 Comments on websites are a curious thing. After banging out a million or so words about TV — in I don't know how many posts over the years — I've seen my share of the best and worst of them. Despite how horribly wrong the anonymous commenting system can occasionally go, I wouldn't want to be a part of a site without them. Because, sometimes, the best things come from the comments. That was again the case with this week's Castle. You may have missed it, because it came in late, but Wombat Joe left this on last week's Castle review:
"Did no one notice that Delaney's character likes playing Scrabble? Maybe with bullets?"
And with that, my viewing of "Boom!" was dramatically altered. I found myself looking for any sign that Jordan (Dana Delany) could be dirty. As often happens when you are looking for something, you find it. It all started to come together. That's how she caught all of those serial killers. She was working with Dunn (Dameon Clarke — Perfect casting. See below….). And the whole kidnapping? Another elaborate trap. Of course they left the blood trail, and the just-visible bridge. All to lure Beckett in. I was expecting Castle to save the day the whole time. But I thought he would do it by getting the drop on Jordan, not Dunn.
Now that we've seen it play out, we know that none of that came to be. But it sure made it a fun ride. Even if you weren't operating under the same delusions as I was, the two part special event still came together very well. As usual, the lion's share of the credit for that goes to the constantly evolving Castle/Beckett relationship. There was so much to like there, but I think I can condense it down to just a few lines.
First: "It's not how I would write it." I was right with Castle in noting that it was all coming together too easily. Although, I wouldn't have made the Star Wars reference, due to my long-standing hatred that burns with the fiery passion of a thousand suns. Still, it was too easy, and the fact that Beckett was completely on board to go with Castle's gut says a lot about how far they've come. And that's progress that has been earned slowly along the way.
Second: "Want me to hold it while you tie your shoe?" I'm really not reading much more into that one than the simple fact that it's a great example of the Castle humor. Even in the most dire of times, the writers can go for a joke, and it works. I suppose we could also look at it as another step in the trust that Beckett now has for Castle, but that was better shown with quote number three….
"Castle. You're my only backup." That's pretty big, right? Jordan spun it as making the most out of the resources at hand, or some such. But really, it's very telling that Beckett is now comfortable facing something like that with Castle at her back. And it does all build, ever so slowly, towards the two of them getting together. As Jordan put it, "He cares about you Kate. You may not see it. You may not be ready for it. But he does."
If I had a complaint about the two hours it would be that we didn't get quite enough time with Dunn on his own. Once he was revealed, it would have been fun to see him going through the machinations of setting some of this up, to get more of a feel for just how warped he was. Really, though, that's small potatoes. Not to marginalize any of the supporting players, but Castle lives and breathes through the interaction of Castle and Beckett. And in that regard, the two hour event was a huge success.
And next week, "A mummy brings murder…" Right on.
Photo Credit: ABC