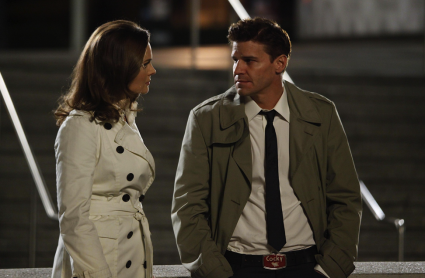 One hundred episodes is a pretty big milestone. Some shows seem to get there very quickly, and others it feels like it takes much longer. We've been on a bit of a long road for Bones, which probably has much less to do with scheduling than it does with the simple fact that our two star-crossed lovers still aren't, you know, lovers. Hints, spoilers, rumors, and even carrier pigeons have indicated things might finally be changing on that front, though.
We've always known that that Booth and Brennan knew each other prior to the Pilot, but we're just now getting the story. It's an interesting plot device, to see the beginnings how things came to be the way we now know them. From Bones suggesting the first Addy/Hodgins experiment to encouraging Booth to find a way to show his individuality, I guess we (read: I) shouldn't have just assumed things were always the way they are now.
Not everything was perfect, though. I don't care about the throwaway line that explains why Caroline didn't remember Bones, but that doesn't explain why Bones didn't recognize our favorite Federal Prosecutor.
It was worth it though, in the end. Despite how Sweets saw his entire theory fall apart, I think it sticks. If you subtract the tequila from the equation, they probably wouldn't have gotten off on such the wrong foot. They're meant to be together.
Which is why I was so incredibly pissed off by the ending. I know not everyone agrees that the show can still work as well with the two leads actually together, but I just plain think it's crap. Booth put it all out on the line, just to be shot down. I think the reasoning Bones gave was ridiculous, and the lack of a fight that Booth put up completely out of character. Never in my life has one scene put me off of a show as much as the final one did tonight. Their actions just plain were not consistent with their characters no matter what anyone says.
Notes & Quotes:
"The whole love thing? I don't know about that." … Sure, Bones, whatever you say.
"That's your right as a psychologist to get everything wrong."
Very ironic that Cam actually "set" Bones and Booth up, considering, you know, most of seasons two and three.
ZACK!!!
"… says that Hodgins is like that, because he needs to get laid … That means engaged in coitus."
I always figured that Bones and Angela had known each other much longer.
"Obviously I passed with a lot of colors."
"It seems like someone like you could benefit hugely from an association with someone like me."
Angela can make the low tech work just as well as the high tech.
Did we already know Booth was related to that other Booth with unfortunately good aim?
"You know I've always wanted to go to Paris with an artist?"
Photo Credit: FOX