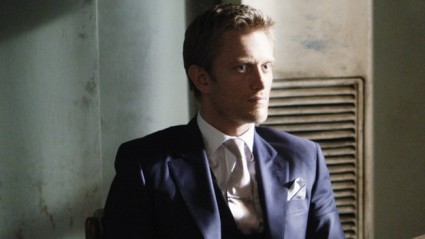 Throughout the first (and only) season of FlashForward there have been high points and low points. In fact, the show has gone from crappy episode to great episode so many times it really does feel like a roller coaster ride, only not in a good way. On the rails of that roller coaster, I'm afraid that I would have to categorize tonight's episode as one of the lowest lows. When it comes right down to it there was just waaaaaay too much Mark Benford in this episode.
It's really hard to watch an overly emotional, melodramatic scene between a father and daughter when all you're doing in your head is wishing that the father would die before the end of the episode. Call me cold, but I've had more than enough of Mark Benford. How were we supposed to react to him wading through a crowd and returning to drinking? It was downright laughable. Really, some guy just pulls him out of the crowd and hands him a flask of booze because he looks like he could use it? Really? I found it to be absolutely ridiculous and lazy.
Aside from Mark, the melodrama was back big time for all the characters. Even with the over-the-top moodiness, I was still bored. Frankly, with two episodes left, I was hoping that we were going to be getting some more action and answers, not a bunch of whiny characters whining at each other. Character development is an important part of any big ensemble drama, but after 20 episodes of getting to know these characters, likable ones are hard to find. That, in turn, makes it really hard to enjoy an episode like tonight's, where the characters' personal lives take center stage. Demetri and his fiance fighting? Didn't care. Olivia running away from Lloyd? Didn't care. Mark falling off the wagon? Didn't care.
With all that complaining being said, I still have high hopes for the big finale next week. It should be a strong outing for the show, and will hopefully have a couple of surprises in store for us. It will be interesting to see if the powers behind the show did anything to try to put an ending on the show, or if they simply didn't have the time after hearing about their cancellation. One of the plots that I am most curious about is Nicole's drowning. It is still unclear who would drown her and why.
By getting most of the character stuff out of the way in this hour, I'm hopeful that next week's episode will just be a fun action outing. And who knows, if we're lucky, maybe those creepy mask people will off Benford for us.
Photo Credit: ABC