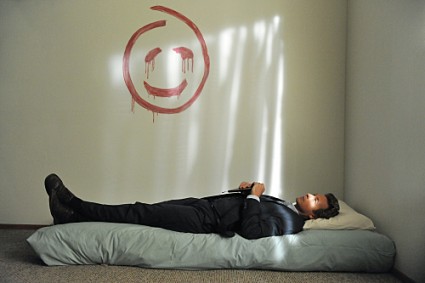 Here's the thing about Kristina and her "gift." Jane is clearly irritated and perhaps somehow jealous that she's able to keep this facade up, that she refuses to admit she's just very observant. What if she is hearing voices of a sort, but they aren't of those who have passed — they are from her own alter ego? It's much more likely that she's extremely observant, but it's entirely subconscious. So, to her, she's hearing voices from the ether or getting "feelings" about certain things, when in fact she's hearing and feeling them from her subconscious … her alter-ego.
And this is also why it's not Kristina who is Red John, but it's her alter-ego. And Kristina doesn't know it.
Yes, you heard me. Kristina Frye, in a way, is Red John. Then again, it's possible we're supposed to simply believe that, given the overly-obvious clues put in place: the womanly boots, the "roll tide," and Kristina conveniently disappearing. But I don't believe it's that cut and dry, because it's this multiple personality of hers that will continue to throw everyone a loop, including Jane and us, the viewers.
Another big clue was what I consider a very nondescript voice from Red John. That could have easily been a woman disguising her voice to sound like a nasally, dweeby man. But here's the thing: is Patrick Jane observant enough under pressure to have picked up on these obvious clues that a simple viewer like me can pick up from afar? Isn't the "roll tide" clue enough? Or is that why Jane is smiling at the conclusion to this episode: he finally has Kristina figured out, and next season he's going to make it his mission to find her, dig into that ill mind of hers and put the mystery of Red John to rest once and for all.
I'm wondering — with all that's happened — if Jane will start packing heat in the new season. I believe he's already noted that he doesn't like carrying guns, but with getting himself put in danger like this? Sometimes his smart mouth isn't going to be enough to get him out of it.
What do you think? Am I onto something with that theory?
Photo Credit: Eric McCandless/CBS