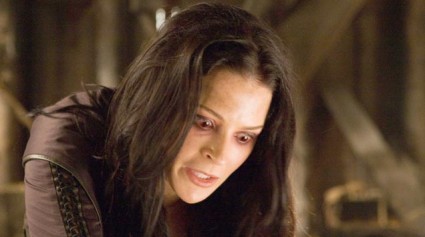 Oh. Wow. So many season finales are described as "epic," but this one truly was. The "false reality" from last week was resolved early on by Zedd erasing Dahlia's history (including her relationship with Cara). We immediately headed into some cool action, as Zedd blasted a baneling with wizard's fire — this episode featured more violence and blood than most, although several season 2 episodes have been pretty violent. Then things got interesting.
Where to begin? How about with a shirtless Darken Rahl, chillaxing in the Mord-Sith pool. Since his return from the Underworld and encounter with his "dear/intrepid/fearless/insert adjective" brother, Rahl is learning to enjoy the simple pleasures in life (apples, massages, torturing peasants). He seems quite content to let Richard defeat the Keeper, and he no longer poses a threat to the Stone of Tears quest. But we can't have an epic finale without a worthy villain, so cue Nicci's dramatic entrance (boiling Rahl in his own pool was a nice touch — you go girl).
After enduring that sad excuse for a Sister of the Dark, Marianna, over the past few episodes, I was so glad to see Nicci again. She looks fabulous in the black dress and the dark makeup, don't you think? And more importantly, she demonstrated what she can do with the powers she stole from Richard. Confessing Kahlan — fantastic twist! When Kahlan confessed herself in "Torn," I wanted to see more, so I really got a kick out of the scenes with Kahlan running around after Nicci, calling her "Mistress."
Kahlan's love for Nicci is as deep as her love for Richard was, because the last time she went into the Con Dar was when Richard's life was in danger. When the "Blood Rage" first came upon her back in the season 1 episode, "Conversion," I thought it was the coolest thing ever. I wanted to see it again before the series ended. Wish granted … big time. Bridget Regan stole the show. Her fight scene in which she took on all the Sisters of the Dark while still in the Blood Rage was, in my opinion, the coolest action sequence Seeker has ever done. Regan did an incredible job emoting that rage, settling once and for all who's the most kick-ass woman on TV.
The Keeper finally decided to go above-ground to take care of business himself, instead of trusting his useless minions to stop Richard. I knew right away that sweet little Declan was the Keeper, but that's okay because the kid who played Declan did a fantastic job, and Richard's scenes with him were uber-cute. He may be the Seeker of Truth, able to discern the facts and assess any situation with one swift glance of his eagle eyes, but in this case, he was carrying the Keeper on his back and didn't know it. Hilarious! I love it.
I have so many good things to say about this episode. It took full advantage of the gorgeous scenery in New Zealand. It featured great action and brought back some old faces, including Verna. And it ended with Richard and Kahlan realizing that their love will protect Richard from Kahlan's magic, ergo they can be together. Big kiss — as Cara smirks at Zedd, clearly thinking, "Man, this is cheesy."
Well done, Seeker team. A fine ending to a fantastic series. Now hurry up with those DVDs … I need to add them to my collection like right now.
So what did you think of "Tears?" Any thoughts on season 2 as a whole, or the series as a whole? If you've been keeping up with my reviews of Legend of the Seeker, please leave a comment so I can say hi to you. And thanks for putting up with my ramblings.
Photo Credit: ABC Studios