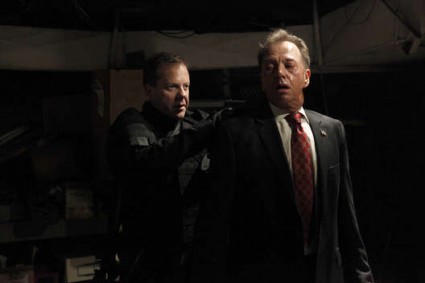 My, oh my. The final hours of Day 8 had so many great moments that I have decided to bestow honors upon my favorites. Of course, if you disagree with my choices, please feel free to chime in with your thoughts in the comments. And here we go.
Most Hilarious Moment
Jason Pillar hops into his SUV and is yakking away on his phone about how he's going to catch up with Bauer very soon. While Pillar is still going on, Jack silently pops up in the back seat, puts a gun to his head, and says, "Sooner than you think." When Jack appeared like that, I just about died and still crack up when I replay it in my head.
Runner up. Once again, the laughs come courtesy of Jason Pillar. Wasn't it insane when Jack pulled a Mike Tyson on Pillar, mauling his ear so Chloe had more time to get away? That was so crazy that it was funny. Jack just loves freaking people out. If Pillar actually survived this season, he would need loads of therapy.
Best Tirade
Dalia. Need I say more? The new President Hassan is feisty. When Taylor threatened to use military force against the IRK if Dalia didn't sign the peace agreement, I half expected her to slap Taylor across the face. Dalia's furious reaction to the truth was, in a word, awesome.
Runner up. I don't know if this counts as a tirade, but I loved how Logan talked Taylor into authorizing an ambush on Jack's ambulance. He goes on and on about how Jack will claw his way out of the deepest, darkest hole and hunt them down and cut them up into little pieces with a machete (or something equally paranoid). Logan had the crap scared out of him twice in one day, but his rhetoric was a tad over the top, no?
Best Chloe Moment
This has to be Chloe shooting Jack, although I liked her throughout all her talking-Jack-down scenes. Their friendship is so wonderful because it has all this history behind it. No one but Chloe could bring him back from the path he'd chosen, because she is the one person who has proven without a doubt that she is on his side. So Jack forcing Chloe to shoot him was quite a climactic scene. The tension built up as they yelled back and forth, and then suddenly it snapped as Jack pointed the gun at his head and Chloe shrieked and shot him. Obviously, we knew he wasn't going to die at that point. What made it so cool was that build-up and climax.
Runner up. "I hope you enjoyed yourself." I'm sure he did, Chloe. Great, tense scene where Jason confronts and searches her.
Most Suspenseful Moment
For me, the signing ceremony was incredibly suspenseful. First with Dalia and then with President Taylor, I felt like an eternity passed as I watched the pen hover above the paper. Will she? Won't she? Who will tell the truth? Will anyone? Loved it. What could have been a boring scene turned out to be intense.
Runner up. The almost-execution at the end was pretty good too. Last week, I was confident that Jack would survive Day 8 because of all the movie talk. But after reading theories that the movie would be a prequel or take place between previous seasons, I started to wonder if we were being thrown off the scent  so that Jack's death would be truly shocking. In other words, there was enough doubt in my mind to make the near-execution quite suspenseful.
Most Touching Conversation
Jack's phone call to Chloe at the end was, without a doubt, the most moving part of the finale. He voiced what we fans all probably felt. When Chloe first arrived at CTU, I thought she was beyond annoying. How could anyone with that obnoxious attitude and perpetual scowl last for more than one season? Instead, Chloe proved to be Jack's most reliable ally, year after year. And she never changed! She's still blunt, rude, socially-inept and scowling — but we love her now, and we know without a doubt that she's one of the "good guys." So it was quite moving to hear Jack finally let her know how much he values her for always being the one he can count on.
Runner up. President Taylor's phone call to Jack was also deeply moving. Her apology felt very raw and honest. I hope that her course correction restored some of Jack's faith in her, because he seemed especially hurt by her failure to live up to his expectations.
Best Jack Moment
Jack's video recording gave him the opportunity to explain himself, explain essentially what drives him, what has motivated him through all these seasons (besides, of course, protecting Kim from cougars). His underlying motivation is a devotion to justice. His idealism is something that he thought he shared with President Taylor, but she betrayed their shared ideals. Watching Taylor react to Jack's video was pretty powerful stuff.
Runner-up. When Jack had Logan in his sights, he ordered Logan to lure the Russian President to his office, and Logan asked how he was supposed to do that. Jack told him to try the truth for once: "Tell him you have intelligence on a threat to his life." And then Jack smirked. That smirk was priceless, absolutely priceless.
So there it is. Do you have some honors to hand out? Now's your chance. Leave a comment, and let everyone know what you thought of the finale, Day 8, and maybe even the series as a whole.
Silent clock for the end of my 24 reviews.
Photo Credit: FOX