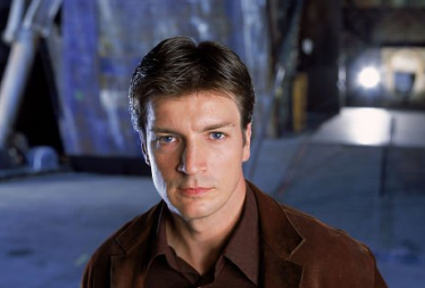 Don't take this the wrong way, ABC, but what the frak is Castle doing having a panel at San Diego Comic Con? You've got to wonder what comic book fans across southern California (or, frankly, the whole country) think about the Movie & TV-ification of the beloved convention. Castle's panel this year is just another in a line of head scratching inclusions to the event (Glee? Seriously?). In this case, though, the reasoning behind the move can probably be summed up in two words: Nathan Fillion.
Ole' Captain Tightpants himself has been a genre mega-star since Firefly and Serenity. Add Dr. Horrible's Sing Along Blog into the mix, and it is a surprise that they don't have FilliCon scheduled already. None of his roles, though, have had nearly the success of ABC's mainstream hit Castle, which begs the question: Which role will he most be remembered for?
A couple of our fellow 'Clackers weighed in:
RUBY:  For me, definitely Mal — but to be fair, I haven't seen the other shows (beyond maybe two episodes of Castle).
BOB:  As much as I loved Firefly, I think I might have to go with Captain Hammer here. Dr. Horrible was a cultural touchstone, and hopefully all that talk of a sequel will come to fruition soon.
KONA:  I've got to say Castle. At the end of the day, nobody watched Firefly, and Castle is awesome.
JULIA: Oh, SNAP, Kona … I'm really torn between Mal and Captain Hammer. Mal's the role that started his career, but, I mean, "the hammer is my penis?" How can any role that let him say that line not be classic? Oh, conundrums.
RUBY: [re: nobody watching Firefly] It allegedly performed well on DVD. (Sorry, that's a little joke for the Stargate fans).
KONA: I'm not trying to bag on Firefly … I saw Serenity opening weekend, but more people probably know him from Desperate Housewives.
BRETT: If it's the most memorable role, I would think it will end up being Castle. Firefly simply didn't have enough episodes to give it the crazed syndication power of Buffy or Angel. It will pop up from time to time, but it's not going to be in constant rotation the way those two have been. And getting a horrible movie on the tail end doesn't add much to it. Castle, on the other hand, already has about three times the episodes of Firefly, with more on the way, and it's much more syndication friendly. I fully suspect it to show up on TNT one day and play over, and over.
As for Doctor Horrible, it was a big deal … but only to Internet nerds/Whedon fans. When I saw your initial email [about the poll] I asked a few people here at the shop if they knew what Doctor Horrible was and they had no idea. Captain Hammer is huge for a very, very, small part of the media consuming population. In the bigger picture though, it's a non event.
IVEY: [Not having planned on jumping in on my own post but I couldn't let that one just sit out there] I'm not saying it was a cinematic masterpiece, but I think calling Serenity horrible is overreaching to the extreme.
BRETT: Actually, "horrible" was me being nice, in case Cooper was reading over Kona's shoulder.
Opinions of how Serenity worked as a movie aside, which role do you think Nathan Fillion will be best remembered for? Let's not forget Two Guys, a Girl, and a Pizza Shop, the canceled too early Drive, or his turn as the man who made Xander on Buffy look like a pirate.
Photo Credit: FOX