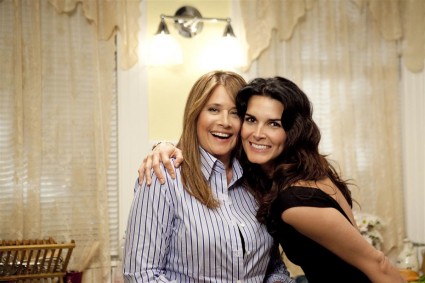 Sure, maybe I had like a bottle and a half of wine last night, but there are some important things that need to be discussed. I had some people over to dinner last night who went to college at Tufts in Boston, so naturally conversation turned to Beantown. I asked one of my friends if he had ever seen Rizzoli and Isles, because I was really looking for someone who has spent time in the area to help me make sense of this series.
Unfortunately he had no idea what I was talking about, but if he had I'm sure he would agree with me (because that's how my world works, okay?). I really enjoy Rizzoli and Isles, but this show makes absolutely no sense to me from a geographical standpoint. I've been to Boston, but I've never lived there. However, I have lived in New York City, and I feel as though their civil servant jobs are the same … they're held basically by third-generation city natives.
If you go to New York and talk to your average Times Square cop, his family has lived in Queens for at least four generations, and he has absolutely no idea where the Toys R Us is, despite the fact that it is literally right behind him. According to the show, Jane Rizzoli comes from one of those families. Unfortunately, there are a few problems with this.
The main problem? Angie Harmon is straight-up from Texas. She's better in this role than any other one in which I've seen her, but she has a hardcore Dallas accent. On top of this, Lorraine Bracco plays her mother, and as anyone who has watched The Sopranos knows, she is 100% from New York, and she sounds the part.
Rizzoli and Isles is a really enjoyable show — certainly one of TNT's better offerings in the past few seasons, but the whole accent thing keeps on bugging me week after week. Half of the people who write for this site are from Massachusetts, but I'm not one of them. Maybe I have no idea what I'm talking about, but this seems kind of crazy to me.
What about the rest of you? Is this something that bugs you as well, or am I just nuts? Please let me know; I'm trying to resolve the argument in my head.
Photo Credit: TNT