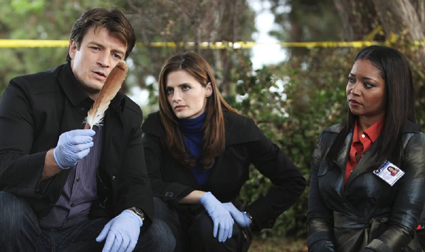 Something a little different this week. The standard Castle M.O. has us watching the investigation unearth a parade of suspects as we look for the hidden clues that will point to who did it. It is admittedly formulaic, but usually that repetition is countered by inventive stories and the best cast of characters in the crime-time genre. This go-round, we knew exactly who killed Lightbulb Len as soon as we saw him. And that revelation quickly put the murder on the back burner as we raced into the middle of a kidnapping plot. A two-for-one sweeps special.
The two-for-one aspect of the episode is what really made it for me. Both of the stories were good, but the real bonus was the shift from that standard Castle style. There was a little more excitement, and a little more tension, brought about by the unconventional form. If they're just going to give up the killer in a photograph, anything could happen next. It made for quite the entertaining hour, even if it did mean two stories that could have held up an hour were somewhat rushed.
Lightbulb Len's story got the better treatment in that regard. I especially liked how they went into detail about just who Len was, and why he was special. Arthur (Christopher May) extolling the virtues of Len's career, and then that speech coming back to tie into the rescue later, worked very well. Crime shows do often get caught up in the more sensational fare. Len's unknown nature makes him somewhat unique in a world where the stories tend more to the grand. I was also a big fan of the hilarious Byron Singer (David Dean Bottrell) roadblock. That was a clever way to bring the feather back into it.
If there was a down side to all of it, it was a question of time. With so much info for the two cases to get to, the kidnapping plot got shorted just a bit. As they rescued Tyler (Gattlin Griffith), and nabbed the crooked brokers, I was still left wondering just what it was they wanted from Dean (John Pyper-Ferguson). Beckett's little wrap-up at the end served the purpose, but one can easily imagine how that could have been expounded if the story had just a little more time to work with.
But hey, if we're going to try and have twice the fun in half the time, something has to give. In this case, the tradeoff was worth it as this latest entry lived up to its sweeps period placement. I also found it interesting that yet another soap actor, Rick Hearst,  made an appearance. It's like Seamus Dever is the soap star conduit to prime-time.
Photo Credit: ABC