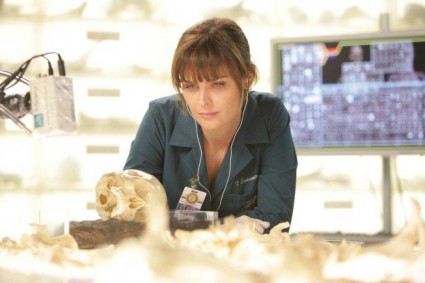 So a little over 24 hours ago I fired up the screener we recieved for Bones, thinking to myself, "Hey, I'll get a head start on writing my review and it'll be done ahead of time and I'll feel great!" Cut to now, when I've spent all day pondering on and re-watching this episode, and I've still got no clue on what to write. I don't even know how I feel about it, yet. I'm just a big old blank.
Usually, my writing a review is really simple. I watch the episode, and take bullet points I put under the headers "GOOD" and "BAD." At the end, I see which side had more bullet points, choose a few I feel strongly about, and write the review. Easy-peasy. This episode, not only did my bullet points come out about equal, but there was a third category I'd created with the header "?????". And under all of my categories the bullet points, instead of reading their usual "scene w/Angela + Hodg. adorable!" had a lot of rambling capslock and over-punctuation, and at the end of each note is another note telling me that I've further discussed this matter in both of the other sections.
In short, we'd reached the end of what I considered a two part mega-episode about Brennan and her feelings. I was sure that by the end of it I'd know not only how I felt about this episode, but about the episode before it, and on top of that, I'd know about my feelings on this season as a whole, which has just felt so notably different from what came before.
But really, all I am is more confused than I started out.
There are two things I can unequivocally and without hesitation say were magnificent. The first was the Veronica Mars actor's reunion with ever-phenomenal guest star Enrico Colantoni, who I absolutely adore in every role he plays and have never understood why he hasn't been scooped up as a permanent fixture on every show. And we even got a bit of Francis Capra as a possible suspect, which was a nice flashback to his days as Weevil.
The second thing that was without a doubt beyond magnificent was Emily Deschanel's acting. It was nuanced, passionate, heartbreaking, and one of the best performances I've seen all year. Bones, in my opinion, gets unfairly shafted come awards seasons in favor of other procedural dramas that I think lack the character depth Bones brings and should be at the very least nominated for. Emily's performance was without a doubt nominee-worthy. Seriously, I love her, but I'm really tired of Mariska Hargitay getting nominated for furrowing her brow the same way every season. Mix it up next year, whoever is in charge of deciding that stuff.
I think what's throwing me off, when I get down to it, is everyone besides Brennan. If she's so clearly having an emotional breakdown, why is everyone just watching her all wide-eyed and passive? And why is Sweets, most of all, only having one very vague conversation with her and then continuing to let her utterly break down? What kind of shrink is he?
And most of all, I'm totally weirded out by Booth. I feel like this season I don't even know him anymore. Look, I'm sympathetic with him. I've been in his place, where there's been a big build-up to what you think is going to be a relationship with someone who you've had feelings for forever, only to have it ultimately not pan out. I know how much it hurts. But I also know that it is completely impossible for Booth to have gone and in the space of a few months fall in love with someone else, let alone fall out of love with the other person. And I seriously wonder why no one is calling Booth out on this whole Hannah charade. They put up a little token protest but then were somehow magically all swayed by Hannah's prettiness. Clearly, if a girl is hot enough, she can override all common sense!
I understand having a rebound relationship, but it's clearly gone beyond that point. It's gotten to a place where Booth is letting people get hurt — not just Brennan, but Hannah, who's now all mixed up in this. And the Booth from the previous seasons wouldn't do that. Booth wouldn't just awkwardly grit something out and then let Brennan leave his car when she was crying. Let's repeat that: Brennan was crying. I think, in spite of everything that's happened in previous seasons, the number of times Brennan cried can be counted on one hand. And that didn't effect him? How can he claim to care about her at all, let alone to have been in love with her less than a year ago, if the sight of her breaking down and crying when she never, ever does so doesn't seem to move him at all? And remember at the beginning of last season when Sweets was telling him that he should absolutely not make any moves on Brennan unless he was positive he was willing to wait for her to accept a relationship at her own pace or it would destroy her ability to trust?  What happened to that? What happened to the Booth who actually gave a crap about Brennan's emotional well-being?
Look, I wasn't exactly expecting him to start making out with Brennan or suddenly admit that Hannah was a rebound. But I was expecting some sort of fallout. I was expecting some hint of the Booth I grew to know and love come peeking back out. I was expecting some sort of look, or realization, or anything to give me a hint that this cold, detached Booth we've seen all season is just a front he's putting up to try and keep himself from being hurt by Brennan again.
Maybe it's coming. Maybe when we get back from this long break we'll see it, but I somehow doubt it. And I don't really know what to make of that. It just leaves me feeling confused and off-kilter and just … strange. It's like our world as the audience has been turned upside-down, only I can't adjust, and no one's turning me right side up again.
Photo Credit: FOX