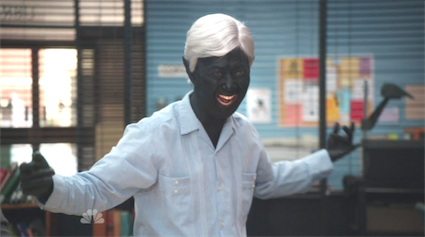 I was a little concerned going into this episode of Community. I knew that it was the Dungeons & Dragons episode, and I was afraid that I wasn't going to get a lot of the jokes because I know basically nothing about D&D. However, the writers did such a tremendous job of showing what the game is about that I was instantly caught up. I learned more about this game in thirty minutes than I had learned in the past thirty years of being alive. The story was original, entertaining, funny and touching. It's probably the best episode of Community that I never want to see again.
This is kind of strange for a TV show, but it happens with movies a lot — Schindler's List, Requiem For a Dream. Most people have a list of excellent movies that are just a little too difficult to watch multiple times. My sister, for instance, can't watch anything in which animals are hurt. Black Beauty scarred her for life. For me, I can't stand watching people get bullied.
This wasn't the common schoolyard fight that you usually see portrayed in television and movies. This was a much more realistic, insidious form of bullying. Calling Neil "Fat Neil" was portrayed as a joke on another episode, and it bothered me. It seemed like a cheap shot; an easy laugh. But that's why I respect the writers on this show so much: They showed that a joke, which would have been just a one-off "ha ha" moment on any other show, has consequences.
I thought I was ridiculous because the intro, in which the narrator described Neil's depression and how Jeff recognized it and tried to help, almost made me cry. I tend to cry over TV and movies in general, but I can generally hold my shit together during Community, if nothing else. However, it turned out that I was only going to get more ridiculous as the episode went on.
Before I get to that, I want to commend those who wrote the actual D&D story. Even in movies, Fantasy is my least favorite genre, but I found this oddly compelling. I was on the edge of my seat as the gang was trying to get the sword back from Pierce. I think I barely breathed the entire time they were making their way across the forest. I was amazed at how much it kept my attention.
This segued really well into Pierce's return. My nerves were already taut, so his insult after insult really got to me. By the time he said that Jeff was the one who coined the name, "Fat Neil," I actually started to cry. Yes, I know I'm dumb, but it really upset me. Charlie Koontz, who played Neil, had the most heartbreaking expressions, and I simply could not hold it together. As embarrassing as it is, I fully admit that I cried throughout the rest of the episode – and maybe a little bit after.
So, yes. Community's Dungeons & Dragons episode had quite a different effect on me from the one I was expecting. I realize I'm ridiculous, but I honestly don't think I can watch this again. It just broke my heart. What did you guys think? I'm sure most of you were able to concentrate on all of the funny parts.
Photo Credit: Lewis Jacobs/NBC