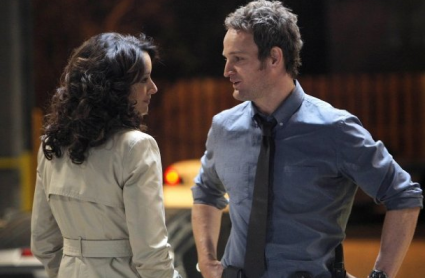 In a year defined by disappointing television premieres, I've been holding up The Chicago Code as my last great hope for finding anything good out of this crop of new shows. Shawn Ryan (The Shield and one of my all time favorites, The Unit) and Tim Minear (pretty much any quickly canceled show I've loved in the last five years) team up to tell a story about political corruption (in Chicago … I know, a reach right?) and the cops determined to clean up the streets and City Hall. So, after waiting through the fall and most of the winter, enduring endless promotion (From FOX even), does the Code live up? In three words? Oh. Hell. Yes.
In Carla's preview of the show, she talks about how intriguing the relationships are. First and foremost is the dynamic between Chief of Police Teresa Colvin (Jennifer Beals) and her former training officer Jarek Wysocki (Jason Clarke). They have got this great tension, but it is not necessarily a sexual tension. Jarek is street smart; almost (but not quite) numb to the grind that is Chicago corruption. Colvin is damn-near naïve (but not quite) in her quest to clean up that corruption. While no longer partners day to day, they make a great team in making the attempt.
The corruption of Chicago has a face and a name, and that name is Alderman Patrick Gibbons (Delroy Lindo). Lindo plays the smooth talking dirty politician perfectly. It will be interesting to see how his character is balanced and integrated in to the show, as it will be indicative of how serialized the storylines will be.
Wysocki's new partner Caleb Evers (Matt Lauria) is green, but not stupid, or Wysocki would have jettisoned him after the first day as he did with the partner he started the episode with. Lauria did a great job in two seasons of Friday Night Lights, and he continues that trend here. His constant nagging attempts at small talk in the car were enough to endear him to me instantly, even though for Carla it was all about him being a Cubs fan.
I loved how, during his meeting with the undercover cop Liam Hennessey, Wysocki admitted that he hasn't even looked at the memorial wall to see where his brother's name was. Jarek's survivor's guilt defines his character as much as anything else, including his "interesting" family life. There was a bit in the previews where he was talking about his brother that I think we'll see on screen next week that I can't wait to see the context.
Which is, not so ironically, how I feel about this show going forward. The premiere lived up to my self-created hype, and I think Brett will finally be wrong about a  Tim Minear project.
Photo Credit: FOX