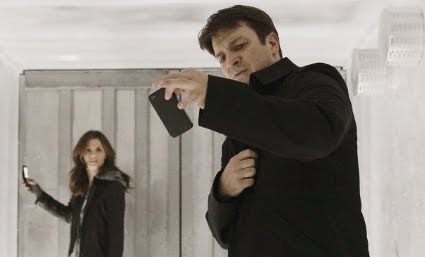 Let's start with the good stuff. I really liked the way this whole case played out. Bringing Fallon (Adrian Pasdar) in to run things brought a new perspective that broke away from the normal formula. And really, formula is one of the danger words for a show like Castle. It's why I've only seen two episodes of CSI (Charisma Carpenter's episode and Liz Vassey in the Astro Quest costume) in years. At some point, you really have seen all the cards. Castle has done a good job of avoiding that to this point, and stories like this go a long way to keeping things fresh.
The twist of who the bombers were was also handled very well. The idea that a disgruntled vet is behind the bombing in an attempt to make a point is not particularly novel. It's been done before. But the setup and the reveal were both great. I particularly liked the interrogation where Fallon went after McCann/Hayes (Lochlyn Munro), and Hayes called the bluff. It did a lot for both of their characters.
Another great bit came in the form of Fariq (Alon Aboutboul). He didn't really have a lot to do here, despite dropping the bombshell clue in the team's lap. Even in that short amount of time though, you get what a great character Fariq is. He has all kinds of potential as a recurring player. I've no idea if there are plans in that direction, but I would be all for it.
And, of course, we have the big countdown from the episode title. Castle's last second grab at the bundle of wires might seem a little silly, but I liked it. If nothing else, at least it wasn't yet another red wire/blue wire moment. After all, despite the concerned looks, we knew the bomb couldn't go off, so you might as well do it with a little panache.
As for that other thing … if you've been playing along with the home game, you may have already guessed that I didn't like it. You would be correct. And the worst part isn't that after all of the hints and teasing we were again given a reset. Although, that does just annoy me. The worst part was that after all this time, Dr. Josh (Victor Webster) finally gets an actual scene, and it's with Castle?! "You can not be serious!" Time with Beckett is relegated to the background, but he gets to actually share a conversation with Castle. Good grief.
And with that, this will be my last post on Castle for the foreseeable future. I'm not giving up on the show, but I've learned a couple things after writing some 1300 posts and over a million words about TV. One of those things is that nobody wants to read someone putting the boots to their favorite show every week. It's becoming pretty clear that I'm about to head down that path with the Beckett/Castle relationship. So, I've put the word out. Hopefully, in the coming weeks this space will be filled by someone who is a little more forgiving where the arc of that relationship is concerned.
Photo Credit: ABC