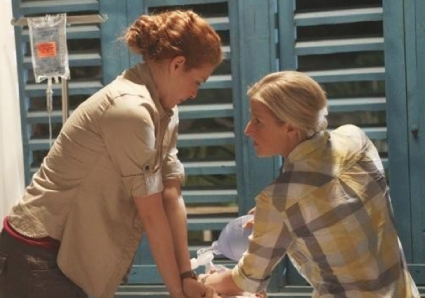 Off the Map continues to sort out what it is supposed to be. For the past couple of weeks, the quality of the show has been all over the place. Last week in particular seem to be a major setback, but this episode, the drama showed the promise it had in recent weeks. Maybe the events of last week's episode needed to happen to point the story in a better direction. Either way, things in the jungle are in a much better place.
Surprisingly, Keeton did right by Ryan; going with her to New York really solidifies their relationship, both practically and from a story standpoint. As much as everyone on the planet thinks Keeton and Brenner are meant for each other, the character of Ryan was created for a reason (Remember, she wasn't in the original Pilot script). Brenner and Keeton don't work as a proper relationship. So, enter Ryan Clark (and not the one that used to play for the Redskins. And, the rumors of her exit were greatly exaggerated. As she was saying her goodbyes earlier in the episode, I'm not sure she was planning on coming back. Thankfully, she's got an escort to make sure she catches that return flight.
Whereas Clark and Ryan had a positive story, Brenner experienced a rather impactful loss. It isn't that she had some great connection to the kid in the river before she tried to save him, but the act of trying to rescue him bonded them in a very real way. She was in that river, fighting with him to hold on for so long, and when he couldn't hold on any longer, she followed him down the proverbial rabbit hole (Considering my previous career managing lifeguards at waterparks, I wanted to throw something at the TV at her stupidity). But her breakdown in the final scene (and how her two friends, reluctantly or otherwise, embraced her) was the best moment she's had on the show yet.
I take back everything negative in last week's post about Fuller and Minard's dalliance in Zee's garden. I said that it plain didn't make sense. When they woke up, and fog of their respective hangovers lifted, they basically came to the same conclusion as I did (Therefore, they are smarter than I gave them credit for). Both are pretty well screwed up as far as personal relationships go. Fuller, though, is just continuing down the path of self-loathing that he's seemingly been on for some time. Minard, though, might just be standing at a crossroads.
In previous weeks, I've talked about how fond I've become of Clark's character. Tonight, I've realized exactly how interesting of a character Minard has become in such a short time period. Early on, she was compared (no so favorably, and, in my opinion, not so accurately) to Grey's Anatomy's Cristina Yang. Minard is, frankly, so much more of a complex character than Yang was in the first nine episodes (coincidently, the entire first season) of Grey's. Minard can't make connections to the people around her not because she chooses not to, but because she really doesn't understand how.
Notes & Quotes
"In all the years I've been down here, I've never seen anything that will take down a village faster than waterborne illness [Watches water taxi crash] … Except maybe that." –
Oh, come on … No awesome scenes of a multiple water rescue scenario? (Oh, I spoke too soon)
I was beginning to wonder if Minard would, having spent all these weeks in the jungle, would ever start to pick up a tan.
"You want to know what else is funny? Kidney failure, blindness, stroke, massive heart attack…." – Minard
"Guess I'm going to be screwed." – Patient
"….and impotence, so, um, no." – Minard
Photo Credit: ABC