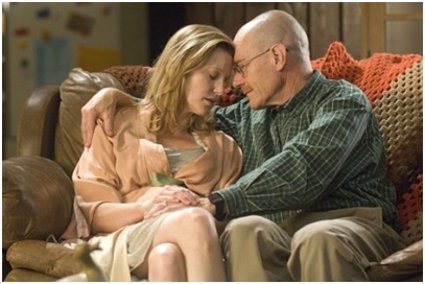 Most of my friends don't like Skyler White. I've convinced them all (and all of them are men, by the way) to watch Breaking Bad, and they all like it, but, "Man, his wife is a bitch." I thought that was incredible, because I've always liked Skyler. Is that because I'm a woman? Who knows. But when I decided to write this post, I did a little research and found out that my friends are not alone. There is a whole Facebook group devoted to hating Skyler White.
Really?
Maybe Anna Gunn just blows me away, but I think Skyler is complicated, loving, funny, wry, confused, bitchy, and a joy to watch. She has had a slow, steady increase in interesting story lines, particularly starting in Season 2 when she gets a job and starts to figure out what Walt isn't what he appears. Even being pregnant, she is radiant. Anna Gunn has a classic beauty that isn't as anorexic as most actresses, but very sultry. She is loyal, she is a good parent, and she is a close sister. Even when she is furious with Marie for shop-lifting a diamond Tiara, she doesn't turn her in. This is perhaps our first clue that Skyler is not a snitch.
Skyler isn't a snitch, and she is no dummy. Whatever her faults, no matter how conventional and straight-laced she appears to be, I think Skyler has some depth. For one thing, she pieces together that Walt is involved in drugs. She realizes she has been wearing Cancer Blinders to his disappearances, his fugue, and his second cell phone, so she digs a little and puts together the truth. The scene in Season 3 in which she confronts Walt and tells him all that she has found out is masterful. When is she going to win an Emmy for her performances?
Even her relationship with Ted is illuminating. Ted is also breaking the law. Again: Skyler doesn't approve, but she doesn't turn him in. So we are threading together the tapestry that Skyler believes in loyalty more than the law.
These three seasons have laid the groundwork for Skyler's path to breaking bad. In addition to her great moment confronting Walt about his activities, she has two other stellar moments. One is when she drives Walt to the car wash and tells him, "If you're going to launder money, you might as well do it right." Then she tells him that she never filed their divorce papers so she can't be compelled to testify against him. Without expression, she looks him straight in the eye and says, "So. There's that."
The next is when she tells Marie a complicated story about Walt having a gambling problem that explains all of his bizarre behaviors and the money they are loaning Marie and Hank — but is also something that Marie won't consider reporting to her DEA husband.
It's been extremely rewarding watching Skyler wake from her normal, boring, middle class existence to having wicked, forgiven sex in the car outside the PTA meeting, to having an affair with her boss to get back at Walt, to entering a complicated money laundering scheme. Gunn has had some fantastic material to work with, and I can't believe she isn't a bigger star.
Photo Credit: AMC/Breaking Bad