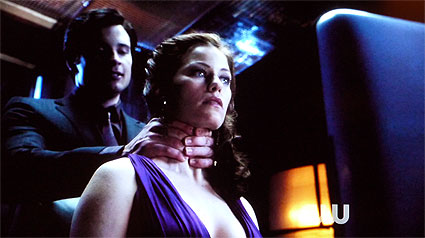 So was the return of Smallville everything you'd hoped it would be? For me, I was a bit disappointed that we didn't pick up right where we left off with Lionel coming face to face with Darkseid. No Lionel at all in this episode, but plenty of Earth Two shenanigans.
I have to give some props to Tom Welling for his performances in this episode as Clark Kent and Luthor. After ten years of playing good old Clark Kent, with only a few forays into his own dark psyche over the years, it's nice to see him play the polar opposite of the same role and even more fun to be able to see the Luthor side of the coin easily switch from the good to the bad with nothing more than a smile … more a sneer. He really pulled off the duality of the characters; I have to take my hat off to Welling because he is so closely associated with the Clark Kent role that it's going to be very hard for him to not be pigeon-holed as an actor for years to come. Although if there is yet another Superman reboot in twenty years or so, Welling should be at the top of the list to play Jonathan Kent.
While I was disappointed that the story didn't continue from the last episode, I was impressed with just how much of a sense of dread permeated almost every frame of the show. From the moment Lois realized Clark wasn't her Clark the show just went to a very dark place, and I liked that. Cassidy Freeman had a chance to shine this week as she went from the tough girl ready to tear down what was left of the Luthor mansion to someone who had to show strength and confidence while dealing with a sociopath. Her body language projected confidence but her expressions revealed the fear she had for her life.
It was also good to see John Schneider back again but this time as the Earth Two version of Jonathan Kent. It was a shock to see him cause such a scene at Oliver Queen's funeral and then hit Clark up side the head while protecting himself with the green meteor rock. Schnieder and Welling also had a nice moment together as Clark told Jonathan about his father in his world and they nearly had what could have been the tearjerking moment of the season but Clark was snatched back into this world just a second too soon.
If nothing else, this episode certainly marked the beginning of the end for Smallville. We've probably seen the last of Clark Luthor, who discovered that his real father did exist in his own Fortress of Solitude, the Luthor mansion is about to be razed, and Martha sent Clark and Lois the deed to the farm as a wedding gift. In the end, though, Clark realized that his life will not be centered in Smallville for much longer so he has decided to put the farm up for sale. Overall, a pretty good episode that went from upbeat to dark and ended on a bittersweet (and hopeful) note.
Photo Credit: The CW Network