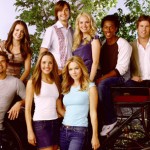 I'm usually iffy on sitcoms.  I find that either they're really good, or they pretty much suck. Or, if they're somewhere in the middle, I forget about them. Usually.
I just don't usually bother with them unless I like someone who's starring in one, or the premise is a bit different than ones I've seen before. Or, of course, if I start watching and find it to be really funny and I actually find myself liking the characters.
What I Like About You falls somewhere between "pretty good" and "really good," for me. I'm writing about it now because I've noticed lately that reruns air on ABC Family during the day, usually at both 8:00 and 8:30 A.M. And sometimes I really get sick of watching the Today Show … you know?
What I Like About You, which aired on the WB from 2002-2006, stars goofy, squawky, impulsive and loveable Amanda Bynes as Holly. Her counterpart is her type-A, organized, sweet and sensitive older sister Val (played by the one and only Jennie Garth). Val has agreed to let Holly live with her in New York City instead of in Japan with their father, who has moved there for work.
Surrounding these two main characters are Holly's best friends Gary (Wesley Jonathan) and Tina (Allison Munn), as well as Val's best friend Lauren (Leslie Grossman). Some more characters round out the cast, including various love interests for each sister. I find that, of the supporting characters, I enjoy Lauren the most. She's similar to the character that Casey Wilson plays as Penny on Happy Endings, only she leans on one friend instead of a group.
So why bother with this show? It's funny! At least I think it is. And Amanda Bynes, whom I've enjoyed ever since — and don't judge me, seeing her in What A Girl Wants in 2003 — is a cute, amusing actress. She seems "real" and I doubt she's going to have any Lohan-type issues later in her career. I would compare her to Emma Stone, but since I haven't seen anything that Stone's been in since Superbad, I don't feel that I am qualified to do so. (The two did star together in Easy A, which is on my Netflix queue.)
Anyway. What I Like About You brings a lot of laughs my way. I first started watching it a few years ago when reruns played at my gym. (Perfect for when you're bored on the elliptical!) Bynes does not play a cheesy, generic comedy "daughter in high school." Her facial expressions are funny; she also uses her body language in a unique way. It's like physical comedy without being slapstick. Also, seeing Jennie Garth in a non-Kelly on 90210 way is refreshing and shows that she has a little bit of versatility in her acting abilities. She's Holly's older sister, but she's got to play the parental role as well. And, as expected, the two clash and try to outsmart one another. It's fun!
Also, a fun fact I just found out? Dan Schneider, the show's creator, is also responsible for iCarly! I'm not sure anyone other than Clacker Brett will care about that. …
So, next time you're home in the morning and you're not in the mood to watch the news or any of your usual shows, check out What I Like About You on ABC Family.
Photo Credit: ABC Family